lower Eagle Creek
Here's the trip report from our trip to Eagle Creek near Morenci, AZ on April 21-23, 2006. Participants were John H. in his 3/4-ton Chevy, Ed M. and John S. in Ed's 3/4-ton Ford, and Mike and Charlotte D. in their Jeep Cherokee.
Present Trail Ratings in Lower Eagle Creek
	Pumping Station to Guswedt Canyon = 2.5 (any pickup or SUV)
	Guswedt Canyon to Bat Cave = 3 (needs 4WD)
	5 miles below the Bat Cave = 3.5 (plenty of brush)
	Last 2 miles to the Gila = 4+

21 - 23 April 2006; Photos by John Hill
Friday, 21 April
On Friday afternoon, we drove down Eagle Creek Road to the pumping station and then headed down lower Eagle Creek. We stopped along the way to explore the usual cool spots like Gold Gulch. We decided to stop and camp at the bat cave so we could watch the bat flight at twilight. It was impressive, although there were only about 1/4 the number of bats we have seen previously.
Saturday, 22 April
On Saturday we continued on downstream with the goal of reaching the confluence with the Gila. The trail sees little travel other than quads below the bat cave, so we spent a lot of effort trimming tree branches to make it more passable (the Cherokee still has nice sheetmetal). The weather was gorgeous, although perhaps a bit too warm for trimming trees with an ax and loping shears. One of the water crossings was made more challenging by the local beaver who dropped three 8-inch cottonwood trees into it. Wildlife highlights included tadpoles that were 6-inches long, and an impressively large tom turkey. We failed to see any bighorn sheep on this trip. We made it down to within 3/4-mile of the Gila when we ran out of both trail and energy. Substantial sections of the old trail have been scoured away by the Spring 2005 floods. Only quads appear to have gone farther, and they fit through places that the big trucks don't. Nonetheless, the scenery at our campsite was suitably impressive.
Sunday, 23 April
On Sunday morning, we headed back upstream. There were lots of sand and gravel bars to climb, but these were no problem since all three trucks were packing lockers front and rear. Just as we were lamenting that there had not been any winching or strapping opportunities, we came upon a black suburban buried in a mud/sand hole such that the seat bench was underwater. Nobody was there as the occupant had decided to walk 10 miles back to town. We decided to pull the truck out anyhow --- Free Willy II! It took a bit of digging and all three of our trucks strapped together plus the suburban running to get him out. We picked up the occupant as we were going up Eagle Creek Road on our way out.

Here's some practical wheelin' advice courtesy of our new friend Andrea:
Don't go wheelin' alone -- even if your pal in the Suzuki can't pull you out, he can give you a ride back to town.
Always take supplies for overnight, even if you are only intending a day trip.
Don't put street tires on your suburban if you plan on driving in deep wet sand.
Pay attention to where you are going. Andrea got stuck at a trivial stream crossing because he missed the turn.
If you are going to abandon your truck in a mudhole, leave the it in Neutral. Pulling the truck out is easier when it is not in Park.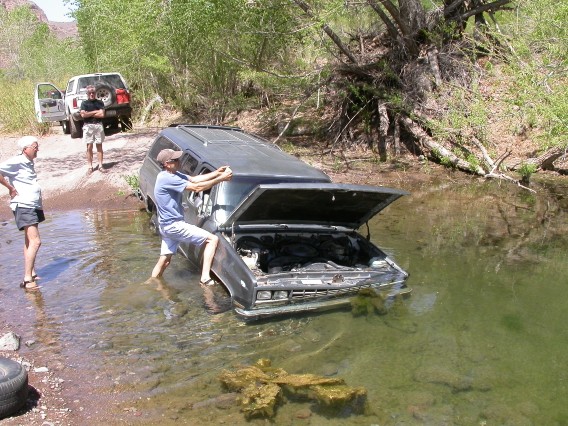 Andrea's stuck suburban before we pulled him out..

This was the only bighorn sheep that we saw.
The only damage on the trip was a broken window in Ed's camper shell when he grazed a tree.
---
This web page maintained by John M. Hill: jhill@as.arizona.edu
All contents copyright © 2006 John M. Hill. All rights reserved.
John's 4x4 page

Last modified: Mon May 1 02:13:18 2006