Eagle Creek
28-29 November 2003; Photos by John Hill
Here's the wheelin' report from the Nov 28-29 trip to Eagle Creek. We had 4 vehicles with a total of 10 people.

The vistors from St. Louis got to see their first bighorn sheep on the way up the hill between Clifton and Morenci. We met at the Conoco station after topping up on gas, snacks, burritos, car parts, etc. We took Eagle Creek Road (presently unsigned) off Hwy 191 down into the canyon at the pumping station for the mine, and then turned south to follow Eagle Creek downstream. We stopped where Gold Gulch flows into Eagle Creek for a quick exploration of the carved rock waterfall. Then we stopped again to hike up to the hot springs in another side canyon. We stopped at the Bat Cave for lunch --- leftover turkey sandwiches of course.

After lunch we made tracks so we could get to the campsite where Eagle Creek flows into the Gila River before dark. The pace was fast because someone had marked the trail with blue tape. The markings were convenient, but they take some of the adventure out of the trip. The deepest water crossings were about 2 feet deep, and they were all created by beaver dams across the trail. We may have to increase the trail rating if these beavers get any more ambitious. We had the traditional roaring mesquite campfire, and it was quite useful because the temperature was down to 25 degF by morning.

After a leisurely breakfast around the campfire, we hiked up to the native american archeological site overlooking the confluence. Then we headed back up Eagle Creek. John H. broke a CV-joint on an insignificant ledge, but 3WD was more than enough to drive home on. We saw a herd of about 20 bighorn sheep high on a cliff upstream from the Bat Cave. We didn't see any eagles, but we saw herons, ducks, roadrunners, etc.

P.S. The trail down lower Eagle Creek was easy in 2003. It has been much more difficult since the floods of January 2005.
Saturday, 28 November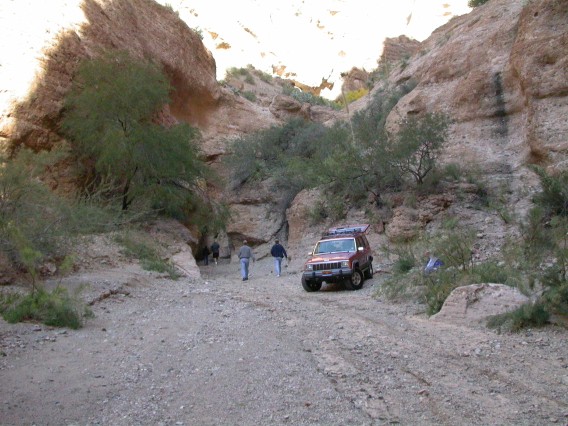 Entrance to Gold Gulch.
Sunday, 29 November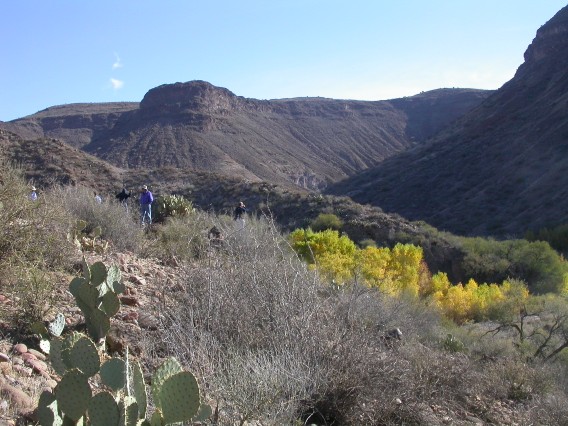 .
---
Other Photos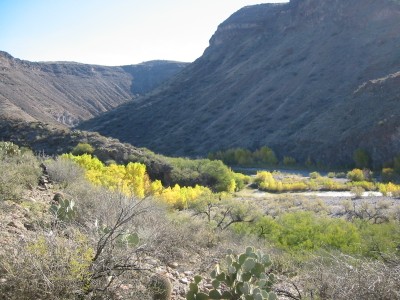 .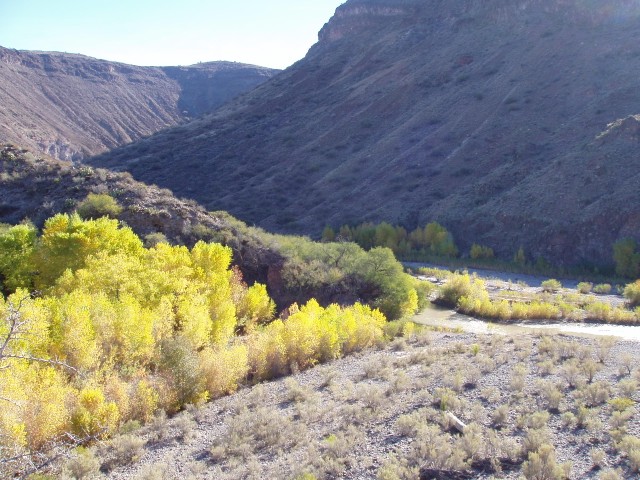 Eagle Creek at the Gila River.
---
This web page maintained by John M. Hill: jhill@as.arizona.edu
All contents copyright © 2003 John M. Hill. All rights reserved.
John's 4x4 page

Last modified: Thu Feb 15 00:45:53 2007