Espiritu Canyon (near Tucson and Redington, AZ)
19 July 2008
Here's the wheelin' trip report from Friday 18-July-2008. Participants were John H. in his Avalanche, Bob P. in his fullsize Blazer, Ron P. in his Toyota P/U and Planetary Mike in his Cherokee.

We headed East on Redington Road about 9AM. The day was hot and muggy (by Tucson standards) with a forecast high of 103 degF in town. We took the A7 Ranch turn off Redington Road past milepost 14 and headed down into Espiritu Canyon. Espiritu is very scenic from above and below. It has one of my favorite saquaro stands along the entrance road. There was evidence of heavy monsoon flow in recent weeks as we crossed the canyon bottom. There was plenty of water flow for scenic purposes, but it was no challenge to cross. Note that the road into Espiritu is rough, but can be accessed in a stock 4x4. The access road is steep, but not as steep as the one on the other side. So don't go down any hill that you aren't willing to climb on the way out.

Next we headed East out of Espiritu and followed the roads across ~three more drainages to Roble Canyon. We inspected an old road across to Paige Canyon, but we decided it was eroded so as to be impassable (and we have a very high standard for "impassable"). We explored a new route following Roble Canyon (at least we think it was Roble) down to the San Pedro. At this point we are only 3/4 mile from Cascabel and the San Pedro highway, so we are starting to plan where else we can go in the afternoon. Howeve, we spent the next 2.8 hours fighting our way across the jungle that is the San Pedro River. We encountered mud, gravel banks, loose sand, deep-cut channels, downed trees, mesquite bosques and barbed-wire fences. It was fun, but nervous in the sense that we really didn't want to spend the night in the middle of the San Pedro in monsoon season. Vehicle damage included a dent in John's driver-side door, and Bob and Mike managed to have identical, simultaneous flat tires. The time did include a stop for lunch in the shade of some willow trees in the main (dry) channel of the San Pedro. It was warm, but pleasant in the shade. Our net West-East speed was ~3/8 mph. We finally found a way across the dry river below Paige Canyon about 1.5 miles to the South. Despite driving through some remarkable stretches of mud, Mike never did get to use his winch. (We bypassed the 8-foot deep hole, since we didn't think Mike needed that much winching.) Warning: Don't even consider trying to cross the San Pedro by yourself or in a stock vehicle.

Mike went straight back to Tucson. The rest of us drove up to the Buehman Narrows to wade in the water and cool off. We were back in Tucson before about 6PM (before the big thunderstorms in the upper San Pedro basin).
Espiritu Canyon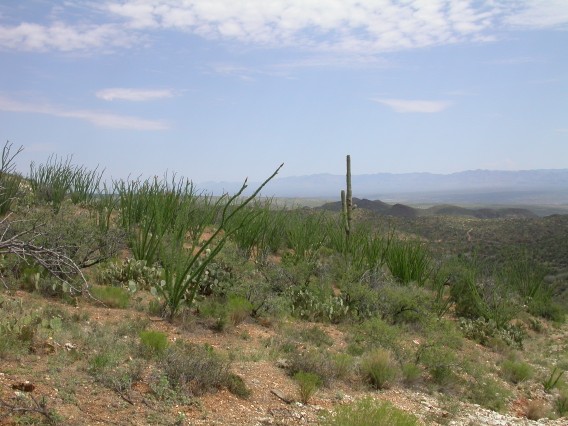 .
Roble Canyon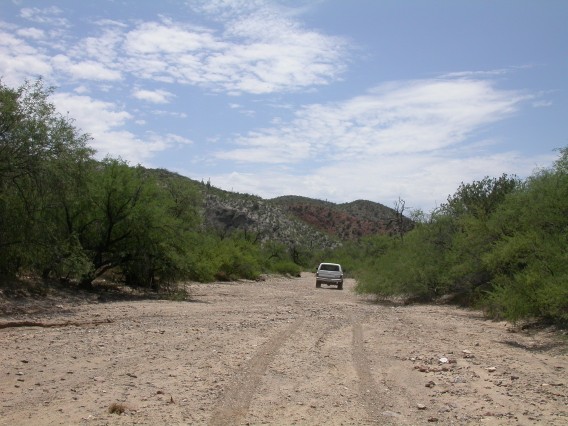 .
Buehman Canyon Narrows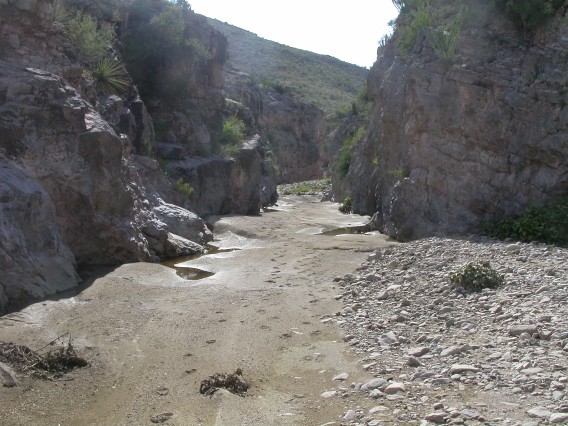 .
---
This web page maintained by John M. Hill: jhill@as.arizona.edu
All contents copyright © 2008 John M. Hill. All rights reserved.
John's 4x4 page

Last modified: Sat Apr 21 15:51:31 2012