Gunsight Pass, Lopez Pass and Sycamore Canyon
I took the truck out 4-wheelin' last Saturday (20SEP03). I went with the Tucson Rough Riders to Gunsight Pass (SE of Tucson). We did Gunsight Pass over and back, then Lopez Pass and Sycamore Canyon. It was a beautiful day with fantastic views of Tucson from the top of the passes. This is a fairly easy trail (rating 3+), but near Helvetia there is a challenge hill. On one of my early runs with the Rough Riders about 6 years ago, I remember others trying to climb this hill, and thinking: a) those guys must be crazy, and b) my truck will never be able to climb that hill.

Well, a couple years and a couple lockers later: a) I'm that crazy too! and b) my truck was the only one in the group to climb the hill! To be fair, the hardcore guys in the Rough Riders weren't along on this run. And my newly locked truck ('94 Chevy K2500) was hardly even challenged by this hill. Coooooooolllll!

The new feature of the truck that makes this climb possible is a "Lincoln Locker" (welded front spider gears), and another 1.5 inches of front clearance from a multi-indexed torsion bar relocator from REALIFT.

The only breakdown on the trip was my flat tire (sidewall damage from a previous trip), and my rearview mirror falling off the windshield on the way home.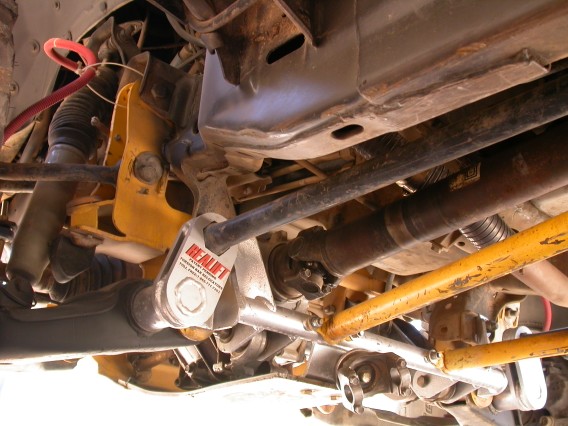 New indexed torsion bar relocators by REALIFT.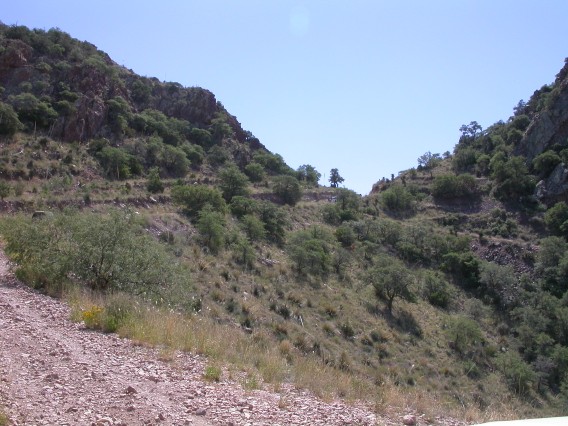 Gunsight Pass from the West side.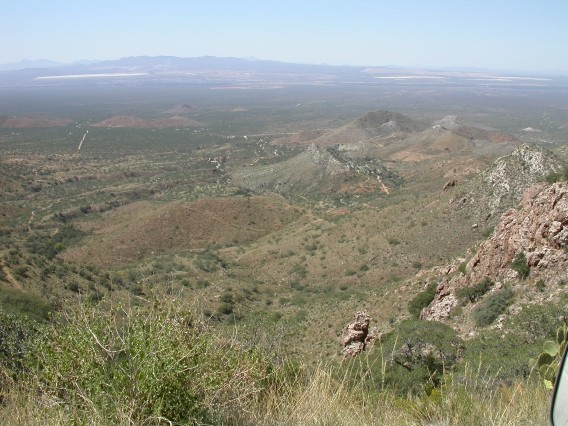 Looking West from Gunsight Pass toward Sahuarita.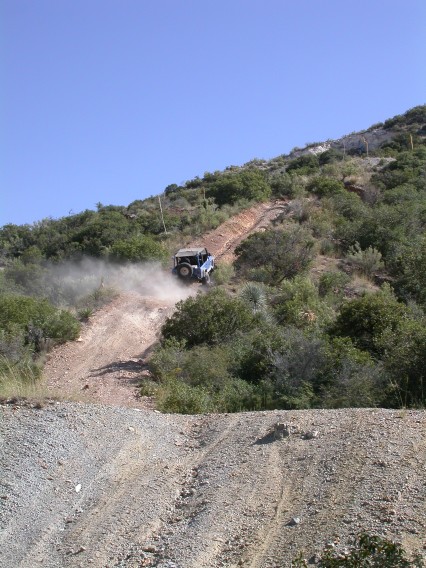 Chris tries the challenge hill near Helvetia.
Helvetia ghost town (near Sahuarita, AZ)
19 January 2003

Panorama by Tom Herbst.
Other photos by John Hill
---
This web page maintained by John M. Hill: jhill@as.arizona.edu
All contents copyright © 2003 John M. Hill. All rights reserved.
John's 4x4 page

Last modified: Fri Jan 4 16:24:26 2008