North Rim
North Rim of Grand Canyon, AZ -- 03-07 July 2007
Here's the trip report from last week's trip to the North Rim of the Grand Canyon. After great initial enthusiasm, the participants in the trip were only John H. and his sister Alice B. in the Avalanche. Did we make the trip: Too long? Too easy? I'll confess that we only used 4WD for 200 yards out of ~1200 miles. Too scenic? Yes, that must be it. Too scenic -- My scenery sensors are really fried.
Tuesday, July 3 -- Navajo Bridge, Lee's Ferry
On Tuesday July 3, after picking up A's luggage in Tucson. I drove to Phoenix to pick up A. hereself. (There had been an airline misdirection the previous day due to thunderstorms in Dallas.) We continued on to Flagstaff and north to Lee's Ferry on Hwy 89A. We stopped for photos at Navajo Bridge, and stopped to stick our toes in the 48degF Colorado River at Lee's Ferry (while the outside air temperature was ~110 degF). We spent the first night at Cliff Dweller's Lodge a few miles beyond Lee's Ferry. The lodge is an adequate lodge (reasonably priced) in a spectacular location, but the restaurant there was itself spectacular. Dinner included ribeye steak with garlic smashers, and shrimp fajitas. For breakfast we had a breakfast burrito and a "stuffed biscuit" (don't miss this one == a sausage omlette inside two biscuits smothered in gravy).

"New" Navajo Bridge as seen from "old" Navajo Bridge.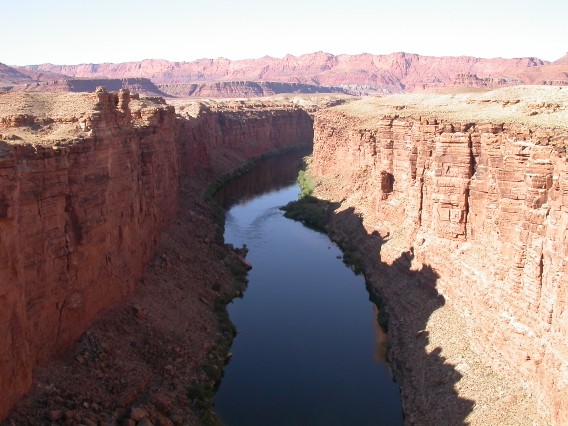 Colorado River looking upstream from Navajo Bridge.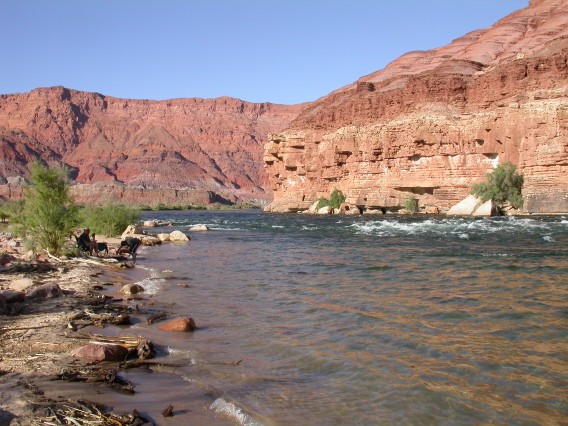 Colorado River from water level at Lee's Ferry.
Tuesday, July 3 - Cliff Dweller's Lodge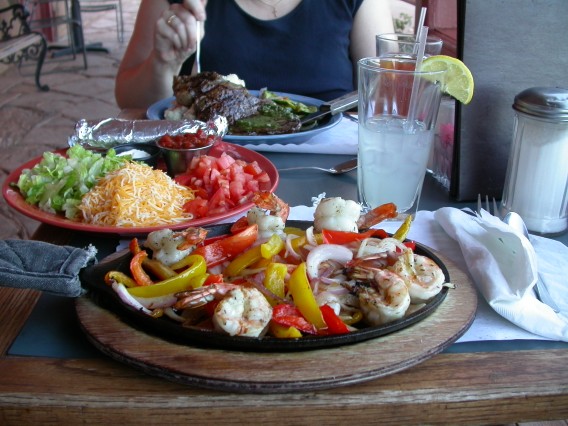 Ribeye steak and shrimp fajitas at Cliff Dweller's Lodge.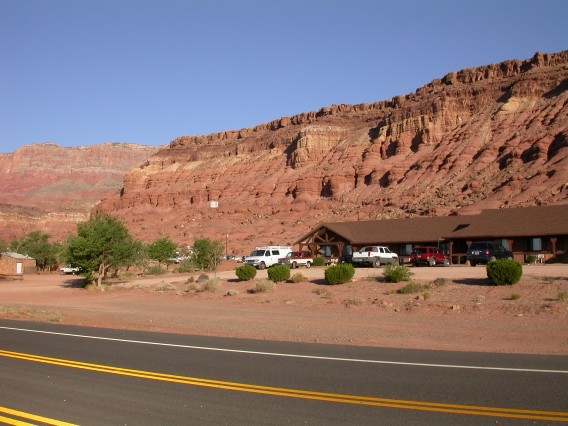 Cliff Dweller's Lodge beneath the Vermillion Cliffs.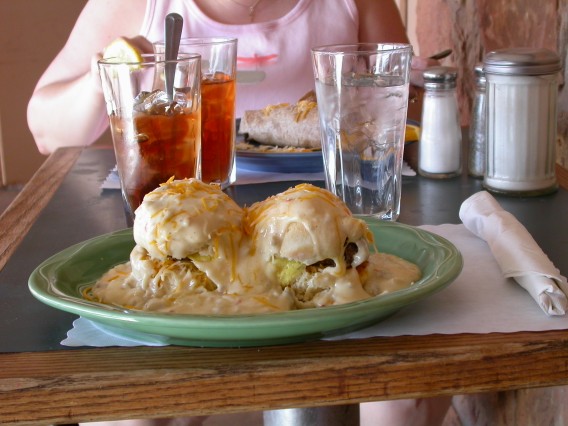 Stuffed Bisuits and Brekfast Burrito at Cliff Dweller's Lodge.
Wednesday, July 4 -- North Rim, Bright Angel Overlook
On Wednesday July 4, we continued on to North Rim proper. The 8000 foot elevation brought the afternoon temperature down to 90 degF (still setting local records), but it was still plenty warm for hiking around. We did Bright Angel Overlook, and saw a condor. Then we took care of our shopping at the Visitor Center and Bookstore. There were plenty of people at the North Rim, but it wasn't really crowded. We stopped at the backcountry office to get our camping permit for Point Sublime the next day. As the sweet ranger lady described the road as "BAD, BAD, BAD", John only heard "FUN, FUN, FUN". After listening carefully to ALL her warnings, we finally got the permit. Note for future reference: the permit capacity of Point Sublime is 11 persons. Then we drove out to Roosevelt Point and Cape Royal/Angel Window (on pavement). The wildlife highlight of the day was seeing some baby turkeys along the road. That evening we ventured off pavement to camp at Marble View (in the Kaibab Forest). Despite its newfound fame in the June 2007 issue of Arizona Highways, Marble View still had only 5 vehicles camping there on July 4. The dirt road there is passable by cars or rental RVs. We saw a number of Mule Deer. The view is spectacular as advertised down into two canyons (Marble Canyon and North Canyon). Dinner was smoked brisket in Cotton Jack's BBQ sauce and corn. Breakfast was fried eggs, hickory bacon and sourdough toast.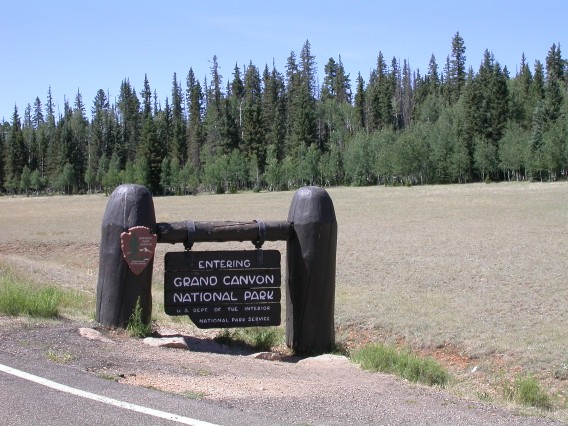 Entering Grand Canyon National Park on Highway 67.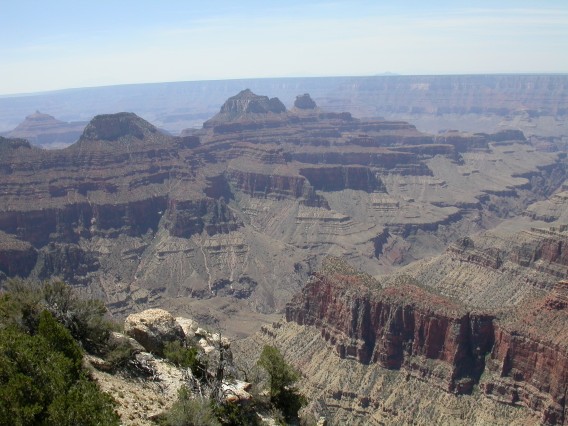 View from Birght Angel Overlook at the North Rim.

Another view from the Bright Angel Overlook trail.
Wednesday, July 4 -- Roosevelt Point, Cape Royal, Angel Window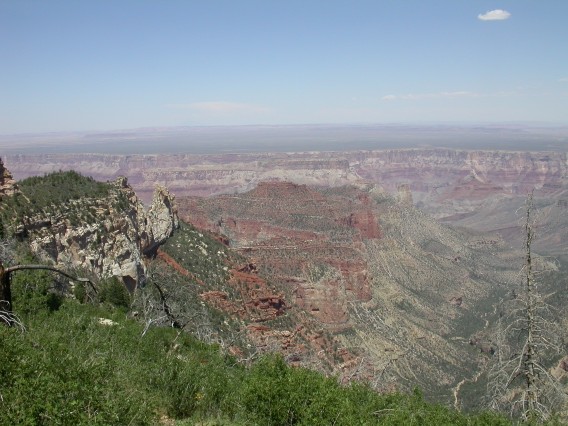 Roosevelt Point.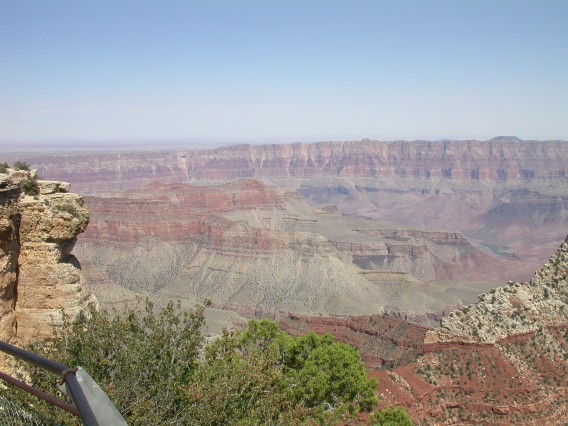 Grand Canyon view from Cape Royal.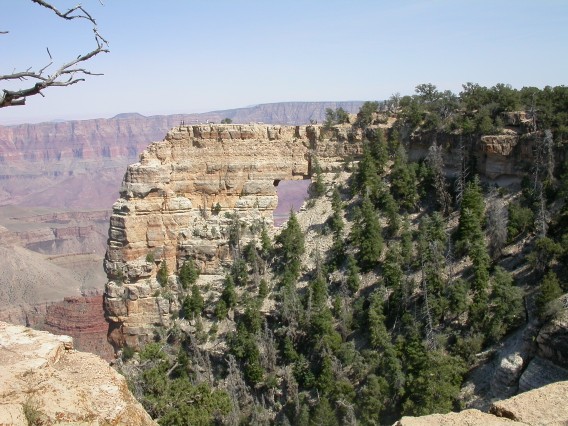 View of the river through Angel Window at Cape Royal.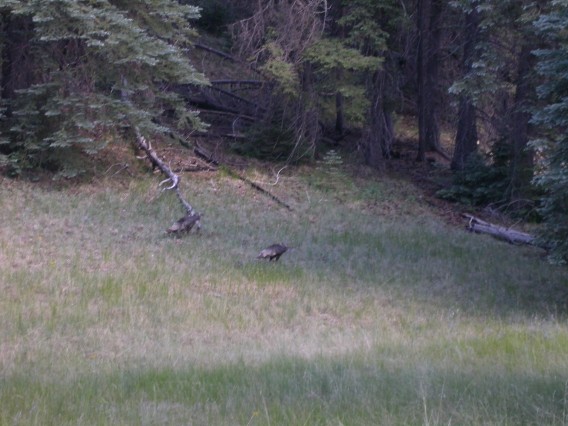 Look carefully to see the baby turkeys in the grass.
Wednesday, July 4 -- Marble View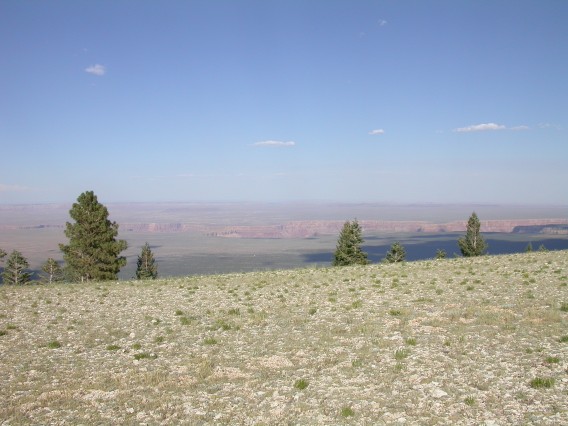 Looking toward Marble Canyon from Marble View in Kaibab Forest.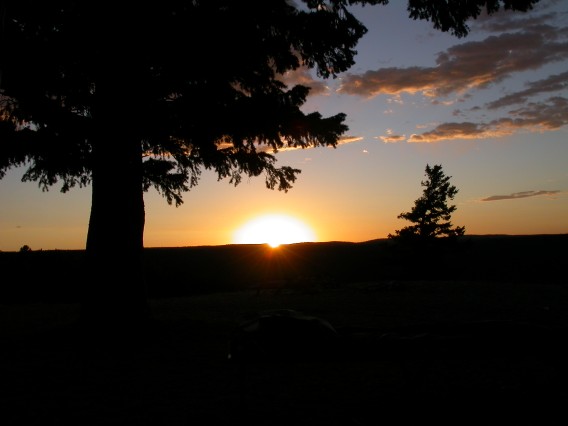 Sunset over North Canyon from our campsite at Marble View.
Thursday, July 5 - Saddle Mountain
On Thursday July 5, we visited Saddle Mountain (same road as Marble View). Then we crossed Hwy 67 and visited Parissawampitts Point and Crazy Jug Point in the national forest. We thought the view from Crazy Jug Point was the best we had seen, but the day was still young. Some small thunderstorms started up around noon, so the day was a few degrees cooler (85 degF). One of these storms lit the "Slide Fire" in Slide Canyon in the Kaibab forest about 10 miles north of where we were. We saw it burning in the distance that evening. We were essentially alone during all this driving through the forest, so all these points would be fine places to camp. We headed back to the North Rim for gas and iced tea. Then we headed out the road to Point Sublime. Turns out that BAD,BAD,BAD and FUN,FUN,FUN were both exagerrations for this 18 mile road. It took ~2 hours each way as Wells said it would. There were some sandy holes that could be nasty in wet weather, and there were some rocks. But any stock 4WD vehicle could navigate this road with an experienced driver. We got some great photos at the Crystal Creek overlook. We arrived at Point Sublime in late afternoon with thunderstorms drifting across various parts of the canyon. We met 4 other vehicles coming and going to Point Sublime, but by 5:30PM we had the place to ourselves. Words are inadequate to describe Point Sublime. There is a 300+ degree canyon view, limited only by a few trees and bushes. In good weather, this is the best camping spot I've ever seen. In bad weather, you'll likely find it much too exposed. Dinner was red beans & rice with kielbassa, and mandarin oranges. Breakfast was blueberry pancakes. At Point Sublime, cooking, eating, brushing your teeth all have a spectacular view. Even the composting toilet had a bit of a view. We found Point Sublime much warmer than Marble View at night because of hot air convecting up from the canyon walls below us. It rained on us for about 30 seconds during the night, just enough to send me scurrying to get the tarp for my cot.

Canyon view near Saddle Mountain in Kaibab Forest.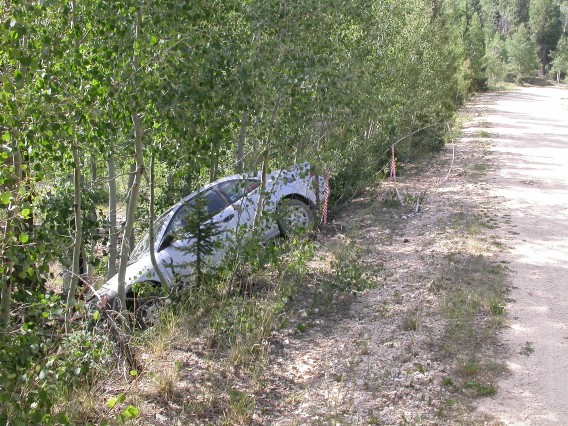 A rental car may not always be a good 4WD vehicle!
Thursday, July 5 - Parissawampitts Point and Crazy Jug Point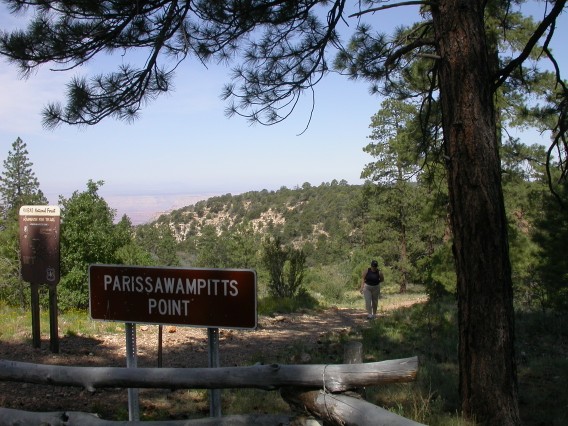 We went to Parissawampitts Point just for the name.

Canyon view from Crazy Jug Point.
Thursday, July 5 - Crystal Creek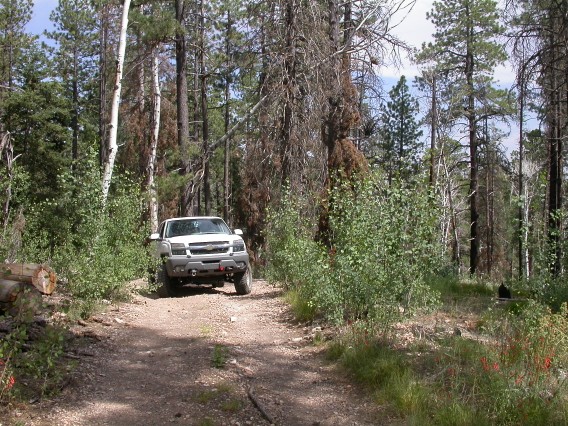 On the road to Point Sublime......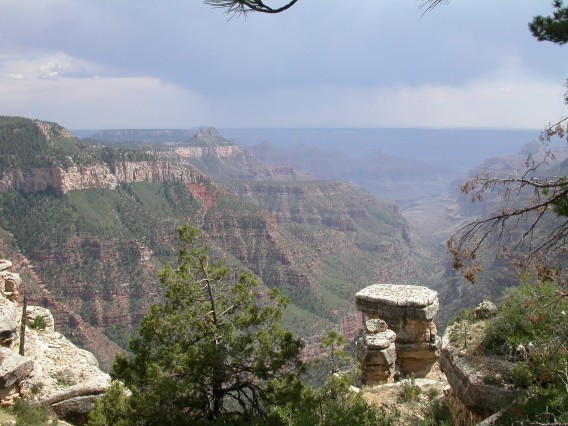 Looking down Crystal Creek on the way to Point Sublime.
Thursday, July 5 - Point Sublime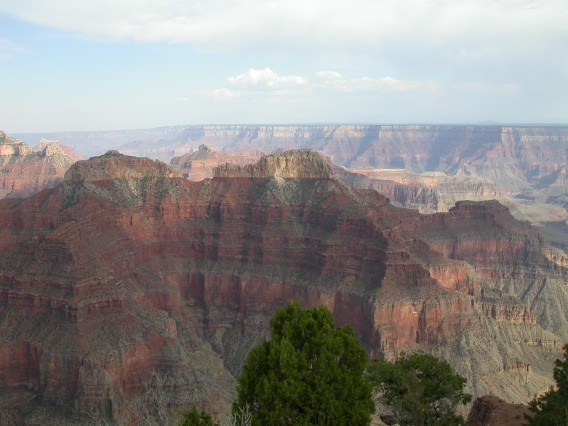 Mencius Temple and Confucius Temple from Point Sublime (a. k. a. Two Cats Temple).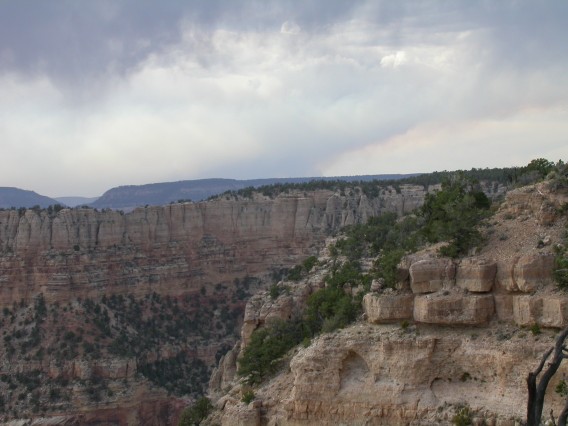 Smoke fron the "Slide Fire" as seen from Point Sublime.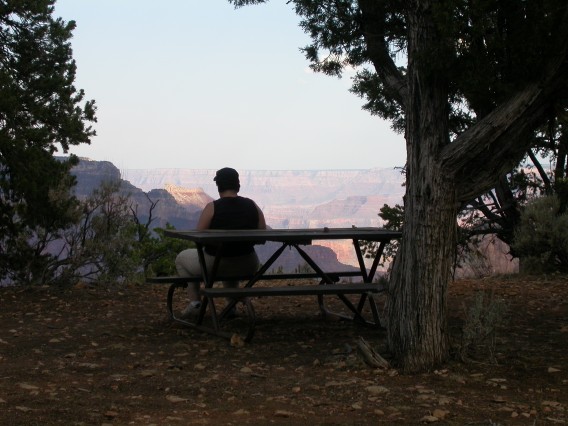 Pretty fine place for a picnic on Point Sublime.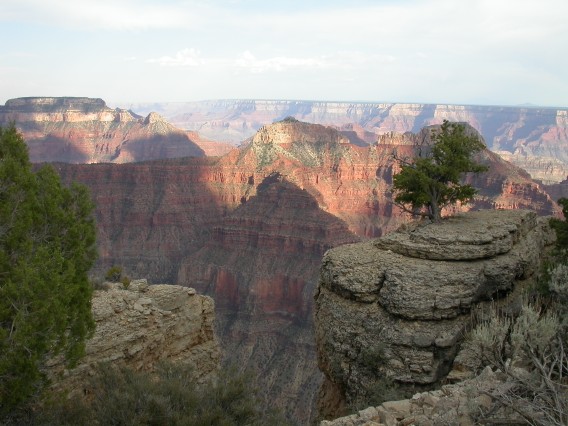 Sunset view from Point Sublime.

Sunrise view from Point Sublime (what you see while brushing your teeth).
Friday, July 6 - Toroweap
On Friday July 6, we left Point Sublime early in the morning. Two hills on the way back were eroded from too many open-diff vehicles going up, so I actually used 4WD for these. The Avalanche easily did the rest of the road in 2HI. We saw some baby grouse in the forest on the way back. After getting back to North Rim, we headed for Toroweap via Fredonia. The 60 miles of dirt road into Toroweap was also well described by Wells and took ~2.5 hours. You can go 45 mph over the washboards, but there are enough holes and pits and ruts to make you focus intently on the road (and occasionally test the ABS). We passed another wildfire burning NE of Toroweap. Since Toroweap is lower elevation (4500 feet), it was ~105-110 degF in the afternoon. We were impressed by the view over the cliff (3000 feet straight down into the Colorado), then we went to find a campsite in the shade. The two campsites at the overlook have been converted to day use only, so we went to find a site at the regular campground about 1 mile from the overlook. We were able to find a site with a huge rock on the west side, so we spent the rest of the evening reading in the shade at the picnic table. Four of the ten sites at the campground were occupied that night. Dinner was albacore tuna on sourdough bread and pineapple chunks. Even after sunset, it was hot enough to sleep on the cot without any sleeping bag or cover. I got up at 3AM to get a towel to put over my feet as it had cooled to ~75 degF. Breakfast was more pancakes (they keep well in the heat). A. reports that Toroweap had superior restrooms compared to our other camping locations (enclosed composting toilets).

After one more look at the overlook with morning lighting, we left Toroweap at 7AM. Now I understand that Steve W. spent 4 days there because it takes that long to get your courage to look down over the edge! We went out on the road to Colorado City. It is a shorter distance to pavement, but could be worse in wet weather.

We went west on 389 and then took the Smithsonian Butte National Backcountry Byway north toward Zion. We drove through Zion on the highway, but it was packed with people so we didn't stop other than a couple pullouts on the road. We stopped for chocolate shakes at "Three Bears" in Kanab, and then we headed for home. The last photos are from the Glen Canyon Dam overlook in Page, AZ. The next stop was for "Pig in a Poke" BBQ in Flagstaff. We passed another wildfire (Birdie) near Mormon Lake. And when we got back to Tucson, the Alhambra Fire was burning near Kitt Peak. Since had been on Mt. Graham the previous Saturday (Chitty), I had been within 40 miles of EACH of the 5 major wildfires burning in Arizona on July 7. (How's that for a wierd travel statistic?)

View from the Toroweap Overlook.
Saturday, July 7 - Toroweap at sunrise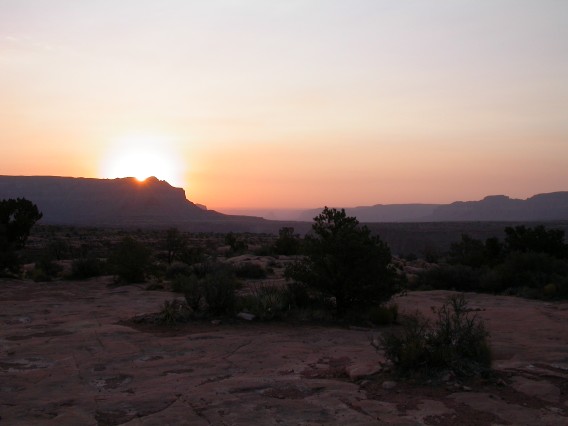 Sunrise at Toroweap.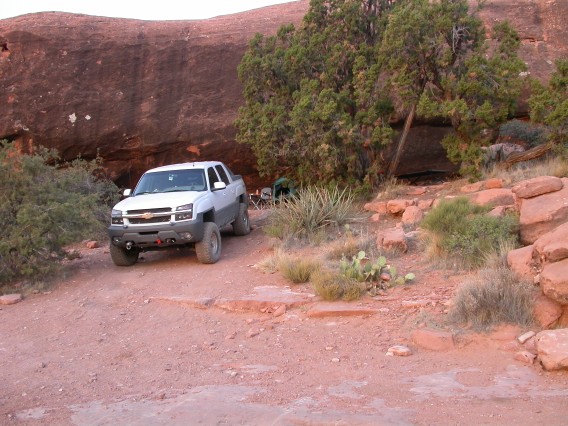 Site #9 in the Toroweap campground.
Saturday, July 7 - Smithsonian Butte Backcountry Byway and Zion National Park
Wire Mesa as seen from the Smithsonian Butte Backcountry Byway.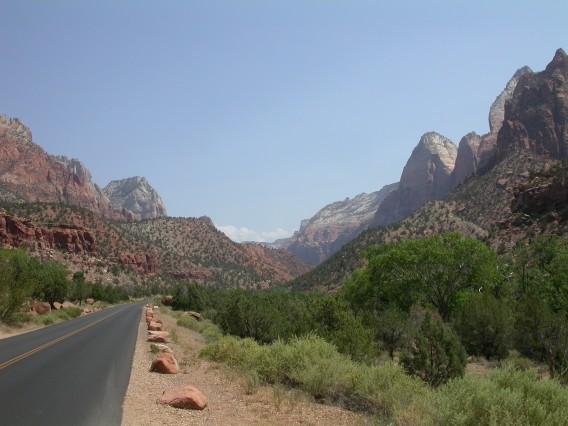 On the way into Zion National Park....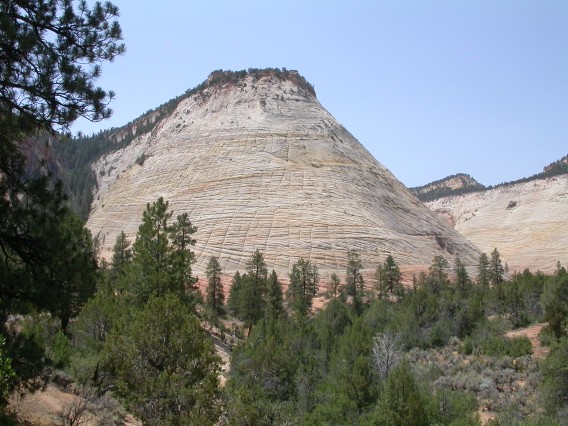 Checkerboard Mesa at Zion National Park.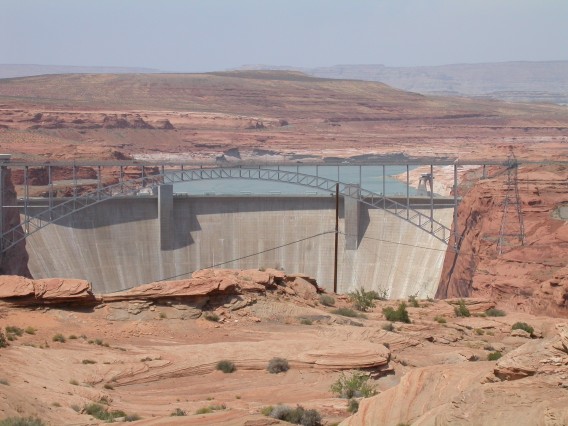 Glen Canyon Dam from the overlook at Page.
---
John Hill <jhill@as.arizona.edu> Last modified: Mon Jul 23 18:53:41 2007