Trip Report for our Colorado Wheelin' Trip 19-23 September 2008.
Here is the trip report from our 19-23 September 2008 expedition to the San Juan mountains of southwestern Colorado. Participants were Ed McC. and Rick M. in Ed's F-250, John H. in his Avalanche and Bob P. in his Blazer. Bob took care of the only truck breakdown early in the trip with his in-tank fuel pump dying on the way into Florence. John met up with Amy's Rescue Service in Happy Jack, and Bob rode shotgun in the Avalanche for the rest of the trip. The fuel pump delays meant that John and Bob got into Dolores about 11:30 PM local time.
Photos by John H.
Friday, September 19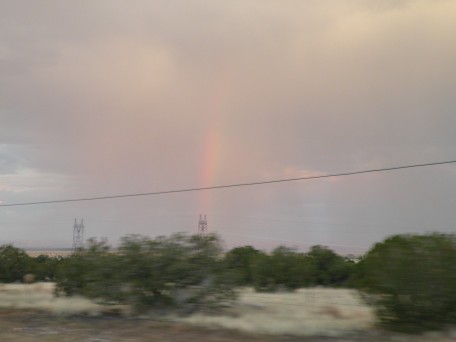 .
Saturday, September 20
We spent the first night at Dolores Mountain Inn, and followed up with a hearty breakfast at the Ponderosa Cafe in Dolores. On Saturday morning September 20, we drove on the highway to Rico, then went up Barlow Creek, over Bolam Pass (11450 feet), past Graysill Mine and down Hermosa Creek to come out at Purgatory Ski Area. We had lunch in a meadow near the backside of Purgatory. After a quick stop in Silverton, we went over Stony Pass (12650 feet). An impending cold front gave us clouds and some light rain. After passing Pole Creek on the way down the Rio Grande side, we stopped to camp overnight in the Brewster Park area. The wildlife highlight of the trip was seeing a cow moose drinking out of a stream about 100 yards away while we were selecting our campsite. We were primitive camping in the two-trucks-full-of-gear sense of primitive. We had the usual issues trying to start the campfire when camping above 10000 feet in humid weather. The weather was nice and surprisingly warm (mid-40's), but there were several light rain showers overnight as the tail of a cold front passed over. We were at the peak of the aspen colors for these high altitudes, even though the aspens down in the valleys at 8000 feet were still green.
Dolores, CO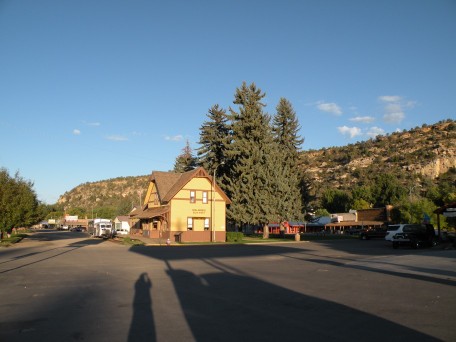 .
Barlow Creek
.
Bolam Pass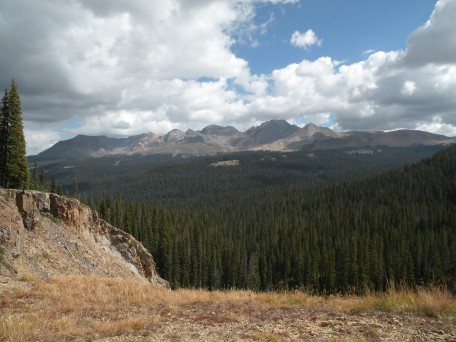 .
Graysill Mine
.
Lunch near Purgatory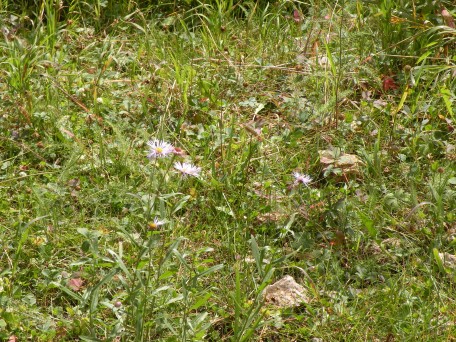 .
Silverton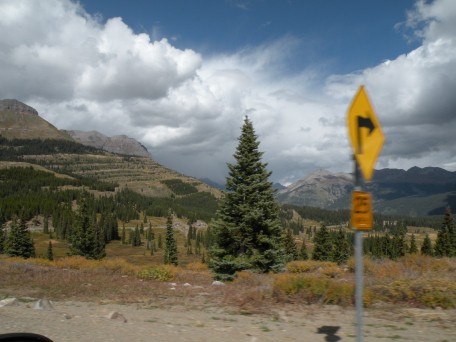 .
Stony Pass
.
Moose near Brewster Park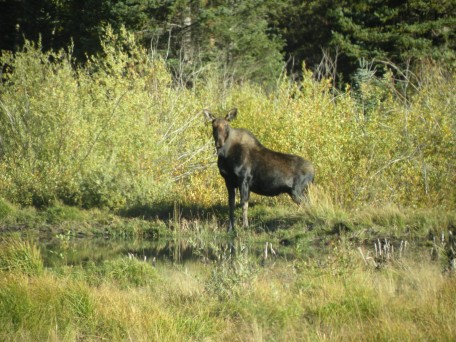 .
Sunday, September 21
On Sunday morning September 21, we continued down through Brewster Park and past the Rio Grande Reservoir. Aspens mixed with evergreens made gorgeous views all along the way. After rejoining the highway (149) north of Crede, we crossed Spring Creek Pass (10898 feet) and Slumgullion Pass (11530 feet) going to Lake City. After lunch in Lake City, we drove past Lake San Cristobal and across Cinnamon Pass (12640 feet) on the way to Animas Forks. Even though the weather was generally nice, we still had little spits of snow up at altitude, and the 14000-foot peaks had already collected their first snow of the season. Then we started up toward Engineer Pass, but took the Mineral Creek route down to Ouray. We gave Ray (of RaysGoodStuff jerky) a ride back to Ouray after his Polaris Ranger had broken a drive belt. Three of us spent the night at the Twin Peaks Best Western in Ouray, while Rick slept with the deer at Amphitheater campground above Ouray.
Brewster Park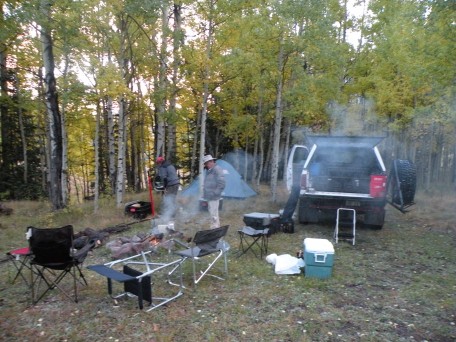 .
Cinnamon Pass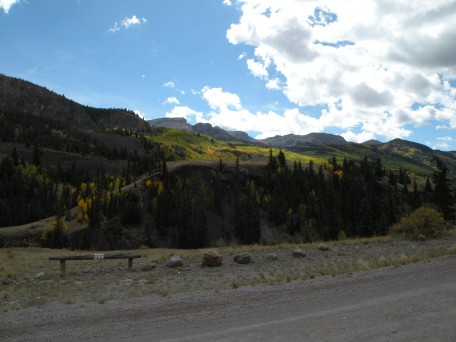 .
Overlooking Animas Forks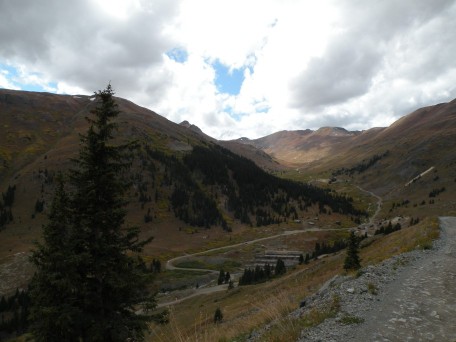 .
Mineral Creek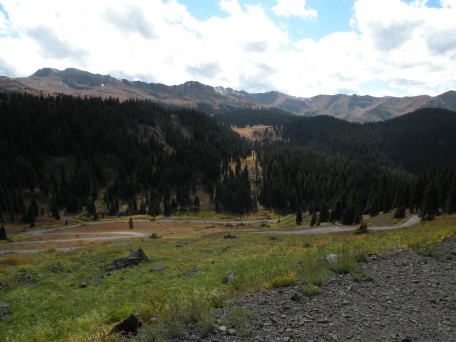 .
Monday, September 22
On Monday September 22, we left Ouray and headed back up Mineral Creek to Poughkeepsie Gulch. Some of the other pass roads had rocks, but Poughkeepsie Gulch is serious 4-wheelin'. We saw a baby elk about halfway up Poughkeepsie. He stood up long enough for us to get photos, then he remembered that his mother told him to lie down and hide in these situations. We climbed the middle route at the step in Poughkeepsie with the aid of lockers, so we didn't have to use the new permanent winch points. Even though it was less muddy than we have seen on previous trips, the steps were more eroded at the base. After a thrilling climb up Poughkeepsie Gulch we crossed Hurricane Pass (12407 feet), and then went down Corkscrew Gulch. The tight and exposed hairpins on Corkscrew are always thrilling in a full-length vehicle. All along the way, we saw nice wildflowers on the sunny slopes. After rejoining Hwy 550, we crossed Red Mountain Pass (11018 feet) on the way into Silverton. We had a late lunch at Handlebars Cafe in Silverton. We got some nice pictures of the departing Durango & Silverton train. Then we headed across Ophir Pass (11789 feet) on the way back over to the Dolores valley. We took the Dunton Road to cross over to the West Fork of the Dolores in search of a campsite. Most of that area seems to be private property, so we camped for the night at the West Dolores USFS campground. Culinary experiments with "Spam-on-a-stick" were deemed not worth repeating. We headed back to Tucson on Tuesday as Bob had some excuse about needing to go to work. There wasn't any additional vehicle damage after Bob's fuel pump.
Ouray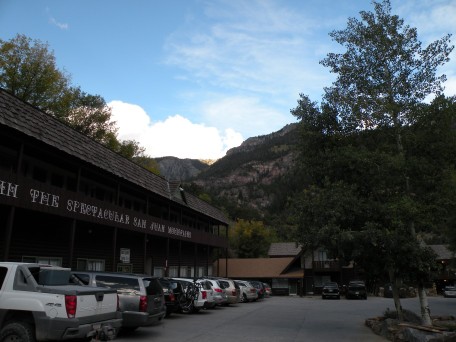 .
Poughkeepsie Gulch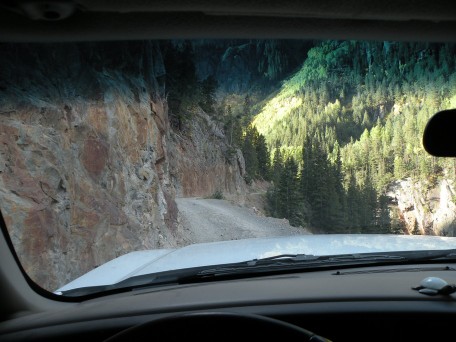 .
Hurricane Pass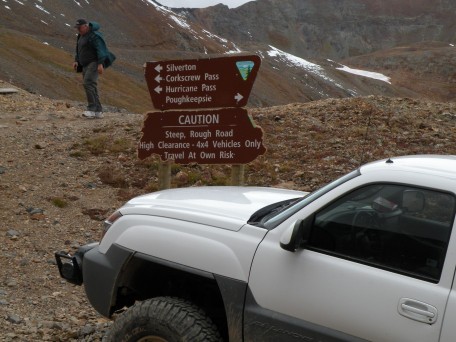 .
Corkscrew Gulch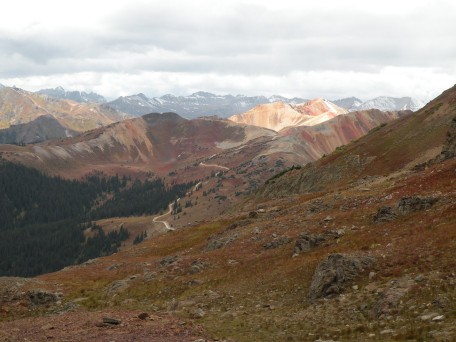 .
Silverton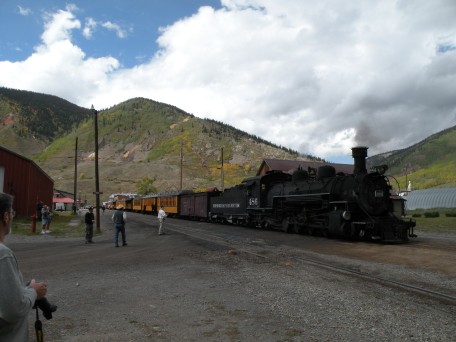 .
Ophir Pass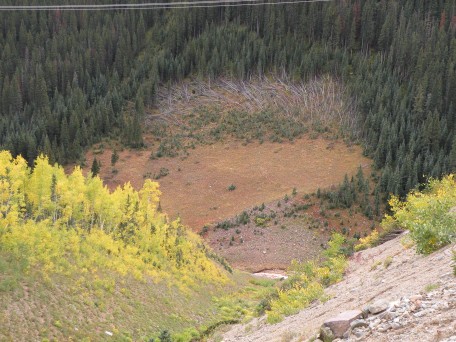 .
West Fork of the Dolores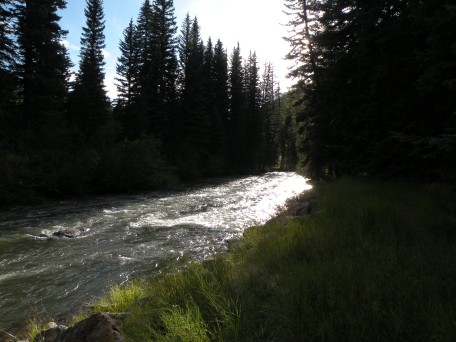 .
Tuesday, September 23
Shiprock
.
---
John Hill <jhill@as.arizona.edu> Last modified: Sun Sep 28 19:46:02 2008