September 4, 1999 - Imogene Pass from Telluride to Ouray
---

Waiting for Mike in Telluride with our rental jeep (bigger)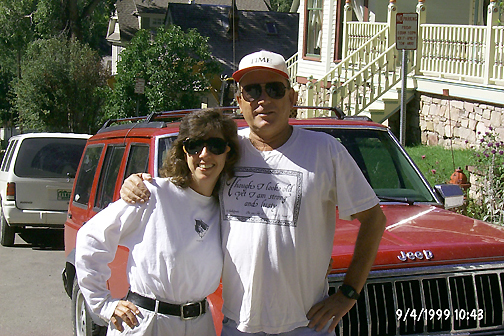 Strong and lusty, Mike arrives (bigger)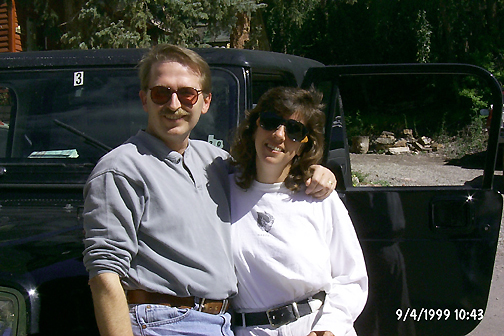 Ed and Amy before departure (bigger)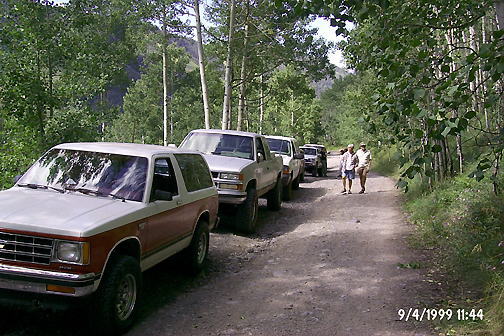 First stop on the way up Tomboy road (bigger)

Under a waterfall, John Hill leads the way (bigger)

Mike's turn for a carwash (bigger)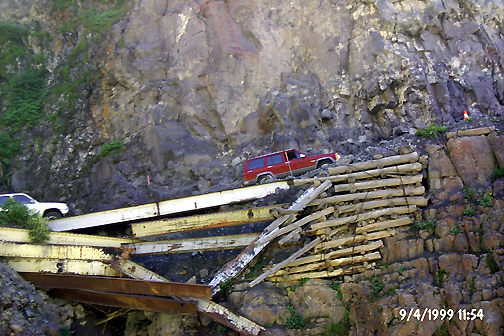 Only the best engineering on the Tomboy (bigger)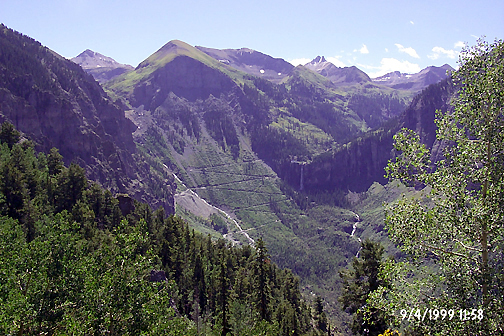 Bridalveil falls and Black Bear pass (bigger)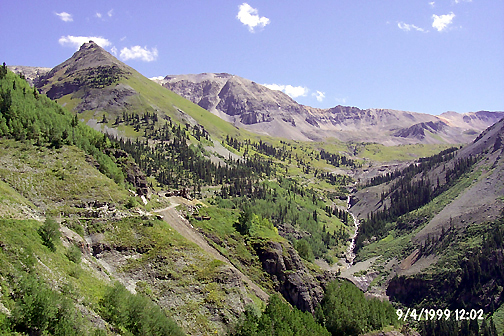 First glimpse of the Tomboy mine site (bigger)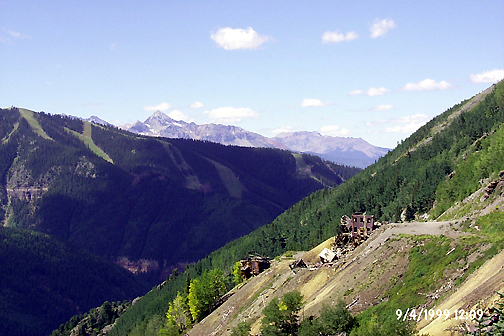 An old mine and upper slopes of the Telluride ski area with Wilson Peak in the background(bigger)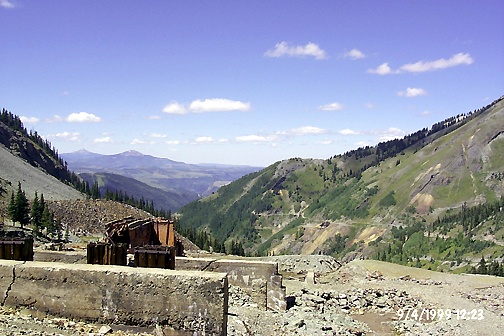 At the mine site, looking back towards Telluride and the route up (bigger)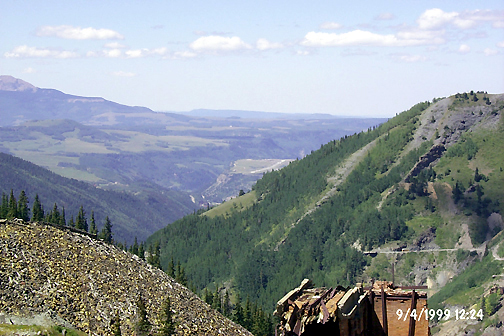 A closer view reveals the Telluride airport on top of the Mesa (bigger)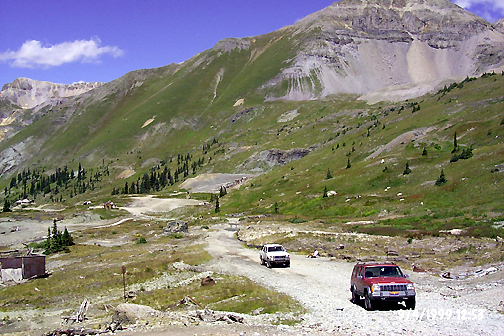 Moving through the mine site (bigger)

The route up to Imogene pass (bigger)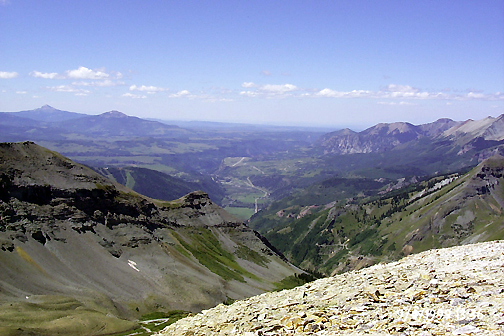 And the view down from the top (bigger)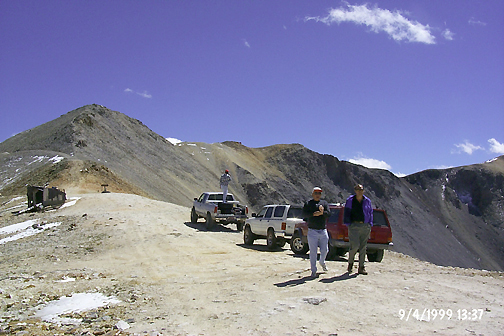 Mike and Rick stretch their legs after a long ride up (bigger)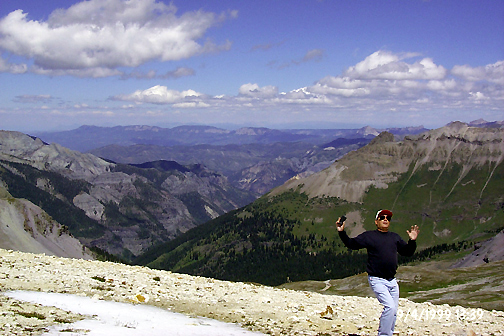 Has he got happy feet or was he pushed? (bigger)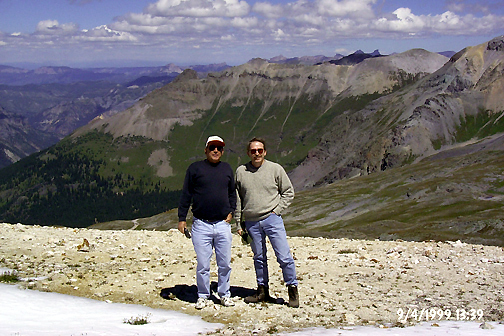 Ed and Mike pose for a picture (bigger)

Amy's turn with Mike (bigger)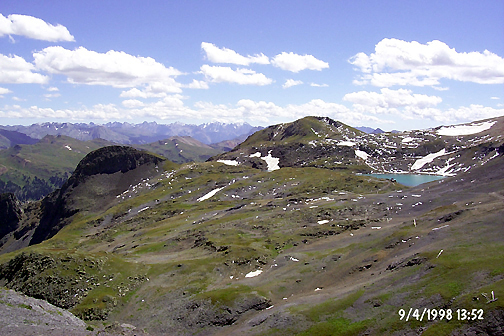 Ptarmigan Lake just down from Imogene (bigger)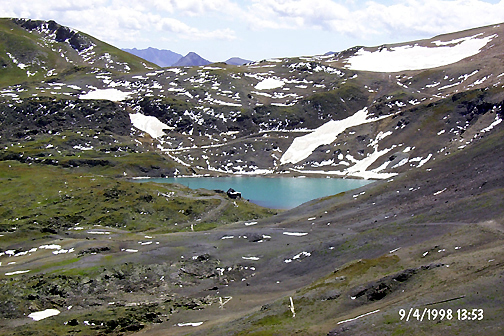 Another view of Ptarmigan Lake (bigger)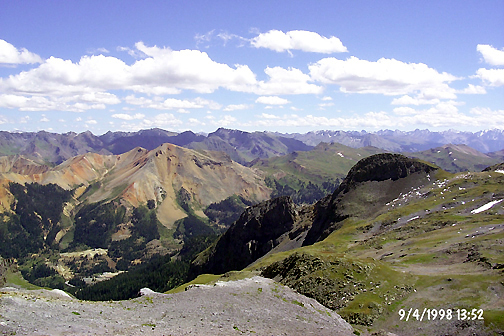 Looking down at Red Mountain pass (bigger)

Another view of Red Mountain pass (bigger)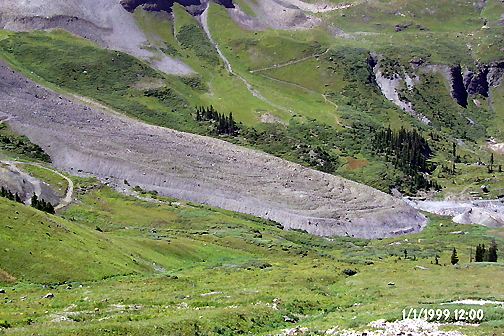 A rock glacier on the Ouray side of the pass (bigger)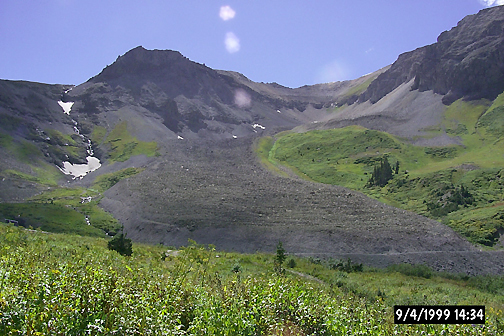 Nose to nose with the glacier (bigger)

A nice waterfall (bigger)

Looking down valley towards Ouray, over the Camp Bird Mine (bigger)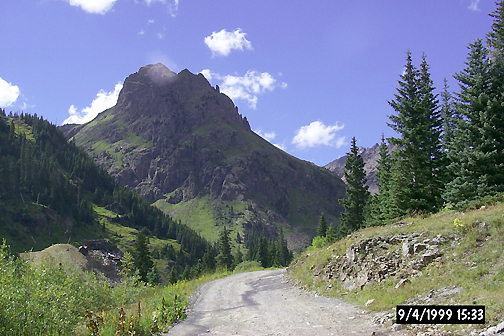 Heading towards Yankee Boy Basin and Mt. Sneffels (bigger)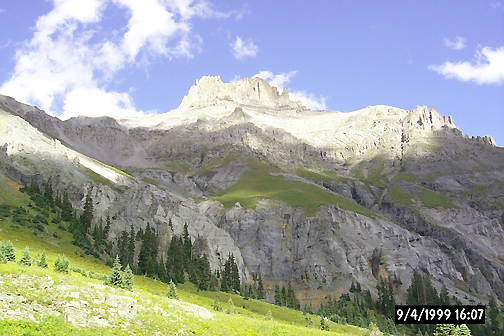 Another view of the moutains surrounding Yankee Boy Basin (bigger)
---
This is a series of pictures taken by Ed Beshore and Amy Phillips on a trip to Southwestern Colorado over the 1999 Labor Day weekend. They joined the Rough Riders from Tucson, Arizona for two days of 4-wheeling in the beautiful San Jan mountains near Telluride and Ouray. Dry and sunny for both days, locals report that the weather for the weekend was the best seen in an otherwise rainy Summer.
All photographs were taken with a Kodak DC-265 Digital Camera. All photos were captured at the medium high resolution setting of 1536 x 1024 pixels. JPEG compression was set to minimize loss in the compression of the photographs.
Images available through the hyperlinks were downsized to 504 x 336 pixels and edge sharpened with Adobe Photoshop. Not all of the pictures were linked, although all of the pictures are present in the directory. Some of the photos had the levels adjusted through the auto levels feature of Photoshop. In addition, some of the photographs were rotated where appropriate.
The careful viewer will note that the date and time is not always correct in some of the photos. This was due to operator error. My apologies.
Questions should be addressed to:
Ed Beshore
email: ebeshore@pointsource.com