Trip Report for our Colorado/Utah Wheelin' Trip 22-27 September 2006.
Monday, September 25
On Monday we followed the "Peavine Corridor" down into Peavine Canyon and Dark Canyon. This is a narrow corridor for vehicle access into the Dark Canyon Wilderness. The scenery was incredible. The surprise to me was that even after driving down into the canyon, you are still in a pine forest -- even at the bottom of the canyon. The trip is very accurately described in Tony Huegel's book "Utah Byways: ....". The trail down into the canyon was slightly graded so that even stock 4WD vehicles could make it (Trail rating 3, 4WD required). However, it is narrow and winding so that inexperienced drivers or those afraid of heights should not try it. Down in the bottom of Peavine Canyon, the trail becomes progressively more challenging as it crosses a number of narrow sandy washes in the canyon bottom. We took the right fork to see the old oil well in Rigg Canyon. That trail is rougher (rating 3.5) with a couple rock steps to climb and lots of brush. We had lunch near the old 1920's oil well. I thought we were going to have to spend the night since the mechanics and technoids (all 9 of us) were having such a good time looking at the well equipment. Next we took the left fork toward the old cabins. This trail was really challenging (rating=4) because now the sandy washes we had to cross were V-shaped and 10-feet deep. The tow strap was needed to help the long wheelbase vehicles across -- at least until enough bumper scraping smoothed out the bottom. After the wash crossing, we got bogged down in a place with silty mud. The Cherokee would float on top, but the 3/4-ton vehicles sunk in about 6-inches in slimy mud. We required some winch action to escape (we wouldn't have gone in without winches and lockers). Remember that it wasn't really a wheelin' trip unless you used the winch. A couple people hiked up 1/3-mile to see the cabins, but most of us turned around at/in the mud.
Photos by John H.
.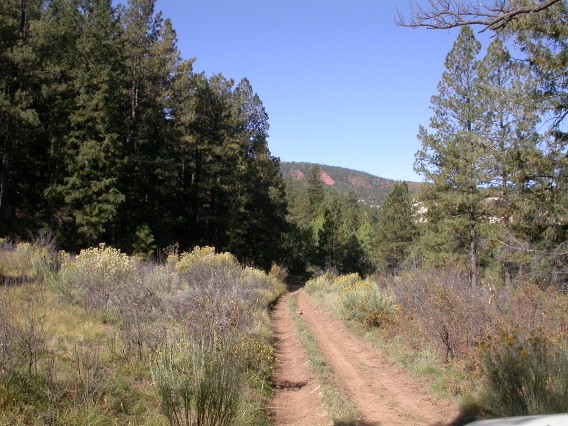 The road in the bottom of Dark Canyon.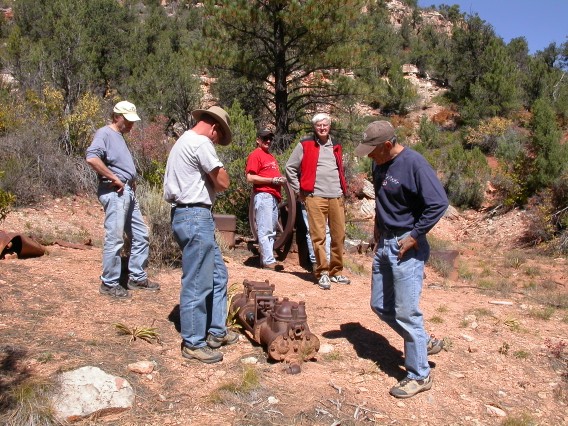 Checking out the oil well equipment in Rigg Canyon.
Photos by Ron P.
Never try to figure out the sign that was laying on the ground......
We came back out of Dark Canyon, and camped in the same scenic spot in the forest on Monday night. This place isn't called Elk Ridge for nothing. The elk bugling was almost enough to keep you awake at night. We also saw remarkable numbers of mule deer and wild turkeys. Monday might was warmer, but we still enjoyed the roaring campfire.
---
John Hill <jhill@as.arizona.edu> Last modified: Thu Sep 20 18:27:57 2007