Pinacate Biosphere Reserve (near Puerto Penasco, Sonora, Mexico)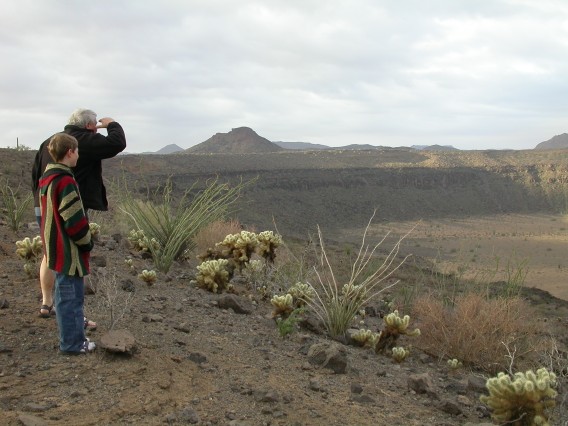 Crater Macdougal.
---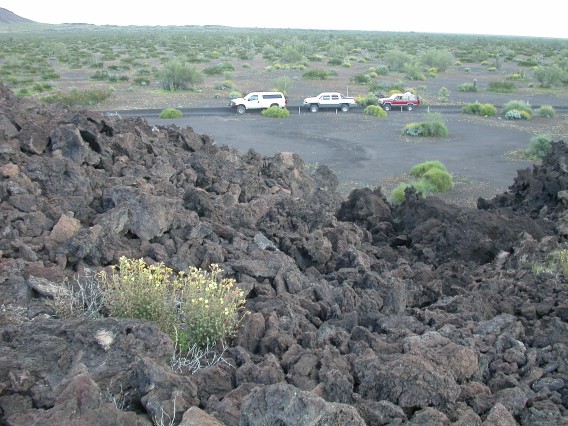 "Fresh" lava flow.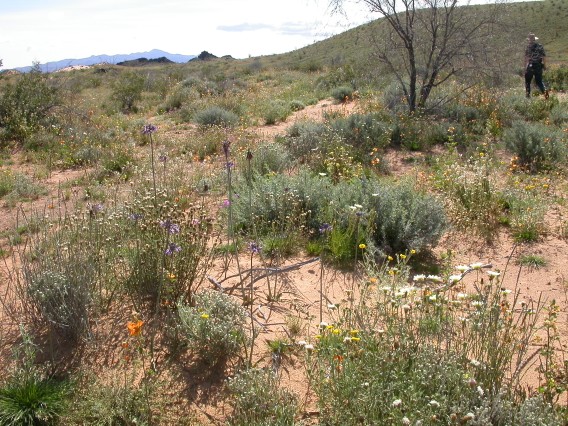 Pretty much every color of desert wildflower that you've ever imagined.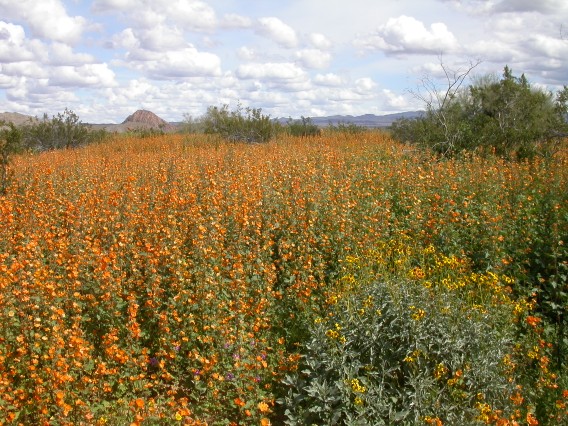 Fields of Desert Globe Mallow and other wildflowers not far from Pozo Nuevo.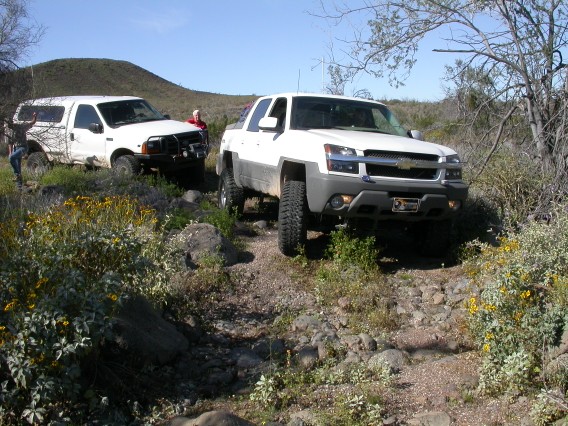 Even the 4WD wash crossings are well decorated with wildflowers.

Wildflowers growing on the dunes.
From hill@abell.as.arizona.edu Sun Mar 6 19:54:13 2005
Here's the wheelin' trip report from last weekend's trip to the Pinacate volcanic field in Mexico. February 24-27, 2005
Like any good wheelin' trip, it started with a Mexican breakfast at Prieta Linda (3303 S 12th Ave). The partipants were Ed McC. in his Ford Superduty, John H. and Brian McK. in John's Avalanche 2500 and Mike and Charlotte DiM. in their Jeep Cherokee. Among these three vehicles we were loaded with 6 lockers, 3 winches, 6 GPSs (and I may have missed some). Note that the trail wasn't that hard, although the GPSs were essential, and the well equipped vehicles avoided any breakdowns. It rained on us a few times as we drove along Hwy 86, but was dry after that.
We crossed the border at Lukeville and stocked up on fresh tortillas in Sonoyta. We drove south on Hwy 8 to the Pinacate Biosphere Preserve headquarters where we picked up our permits (1 dollar/day per person). Then we headed northwest across the eastern section of the Pinacate. We stopped at Crater Elegante (the largest maar crater in the world) and at a fresh (less than 2000 years old) lava flow. The dirt roads in the eastern section are pretty good, so we were able to make it out on Hwy 2 in the late afternoon (trail rating = 2). We drove west on Hwy 2 to the entrance to the west section of the Pinacate (near the twin microwave towers). Then we followed the dirt road south to Macdougal where we camped for the evening. Already we knew that the wildflowers would be spectacular, because there were many more flowers around Macdougal than there had been last year.
On Friday morning, we broke camp at Macdougal and headed South (trail rating = 3). We stopped at Crater Trebol (Molina) with its interesting triple structure. We continued South and then turned West (before arriving at Crater Sykes). We were looking for Crater Caravajales, but we never found it. We had a nice hike to a hill that turned out to be an eroded cinder cone. The base of that hill had one of the best multicolor wildflower displays I have ever seen. In this area we saw a discarded hamburger bun on the ground -- that was the closest we came to contact with people for two days. We continued west until we reached the dirt road that comes in from Hwy 2 to Pozo Nuevo (new well). We followed the road south toward Pozo Nuevo going around the west end of Sierra Extrana. We stopped for lunch at Pozo Nuevo. At this point we were about 2 miles West of where we had lost the trail in a field of orange flowers last year.
We continued Southeast from Pozo Nuevo following a two-track path that was sometimes barely visible in the wildflowers. We arrived at Moon Crater by mid-afternoon. This gave us a feeling of success because we'd spent several hours trying to find a road to Moon Crater during last year's trip; and we had arrived at a crater that Ed had never seen during his numerous previous trips to the Pinacate. Given that we could still see a road to follow, we elected to continue on around the south side of Sierra Pinacate with the hope of coming out on Hwy 8 near Rocky Point. We arrived at the edge of the dunes in the late afternoon. No Robbie, there was not any road across the dune field -- at least not anywhere close to where we were. We continued East and the road went high enough into the foothills that we got an ocean view above the dunes.
We camped in this area for the night, and continued East on Saturday morning. This part of the road is very windy as it snakes in and out of relatively recent lava flows, and it is very lightly travelled. Indeed we did make it out to Hwy 8 just before noon, so we went in to Rocky Point and had shrimp cocktails at Lily's for an early afternoon lunch. After a shower at the hotel, we went driving on the beach northwest of Rocky Point. They had told me about the beaches composed entirely of seashells, but I really didn't believe them until I saw it for myself. We went back to Rocky Point for a shrimp dinner overlooking the sunset.
On Sunday morning we had shrimp omlettes at Balboa's down by the marina, then we headed north. We stopped at the dunes section of the Pinacate Preserve and had a fun hike climbing the dunes in our bare feet. Either there is one Pinacate beetle that was very busy, or there were many Pinacate beetles that run over the dunes at night. We had a good time studying all the tracks from beetles, lizards, etc. We crossed the border and stopped for lunch at the Organ Pipe visitor center picnic area. On the way back to Tucson, there were spectacular displays of poppies just west of Kitt Peak.
A good time was had by all. Sorry, there was no vehicle damage to report beyond a few new pinstripes. The winches never got used.
---
On the north rim of Crater Cerro Colorado. (photo by John H.)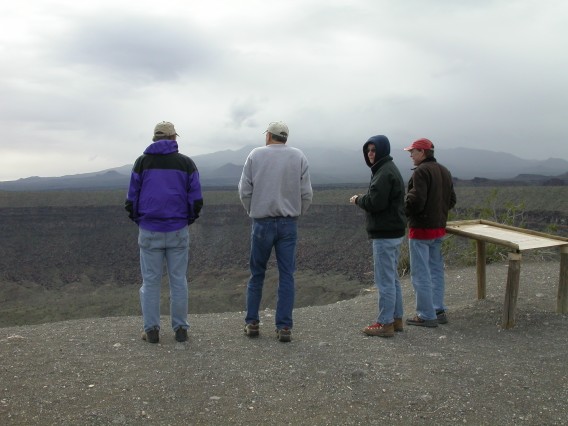 Crater Elegante. Note that it is snowing on the volcano in the background. (photo by John H.)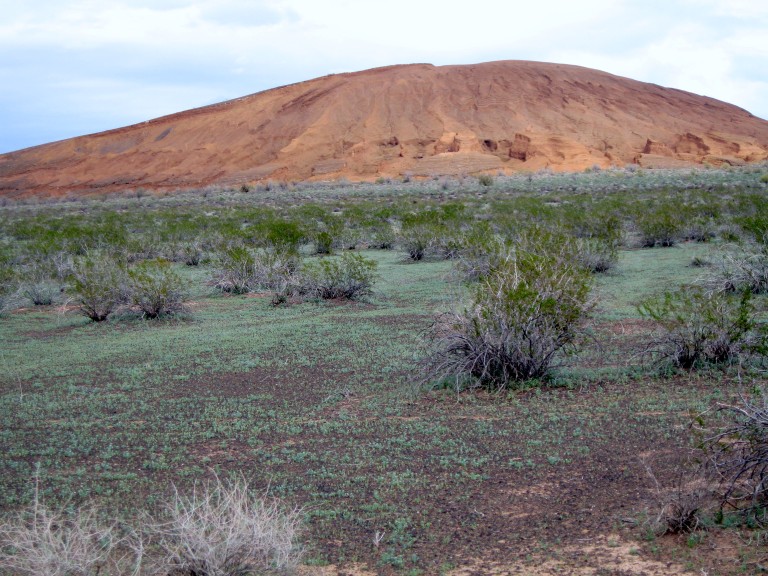 Crater Cerro Colorado. (photo by Ron P.)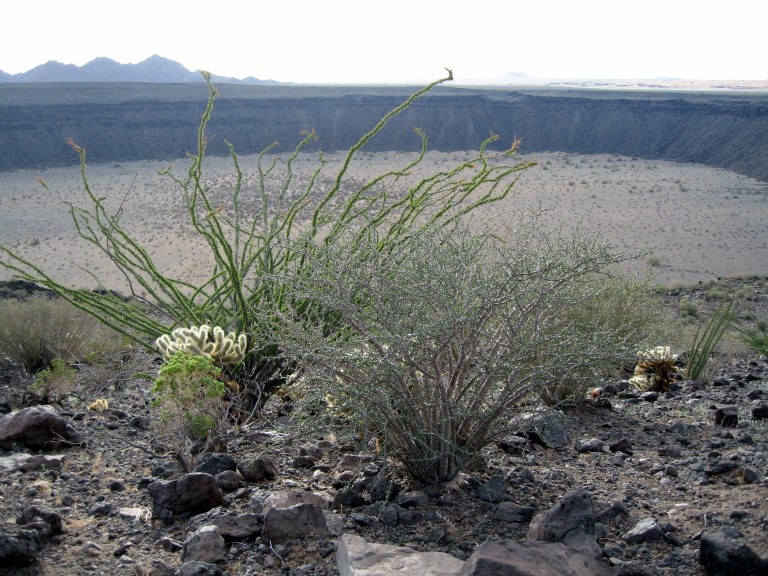 Crater MacDougal. (photo by Ron P.)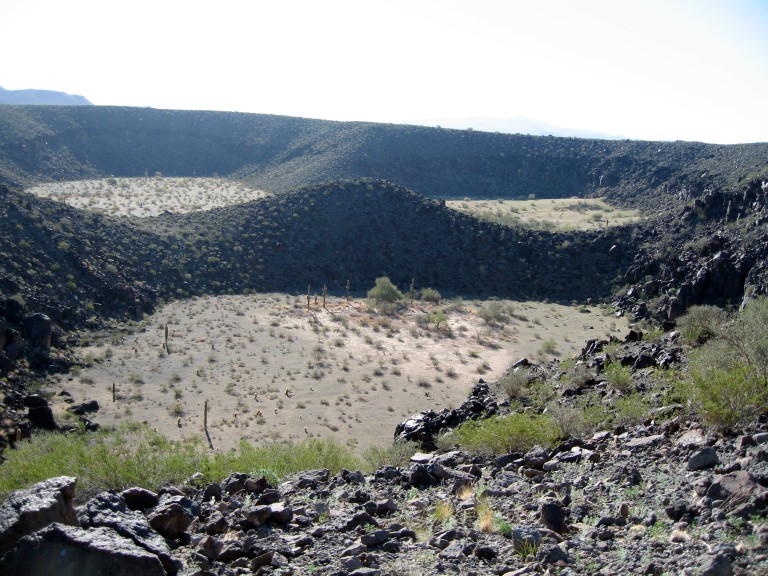 Crater Trebol (Molina). (photo by Ron P.)

Crater Grande (Sykes). (photo by John H.)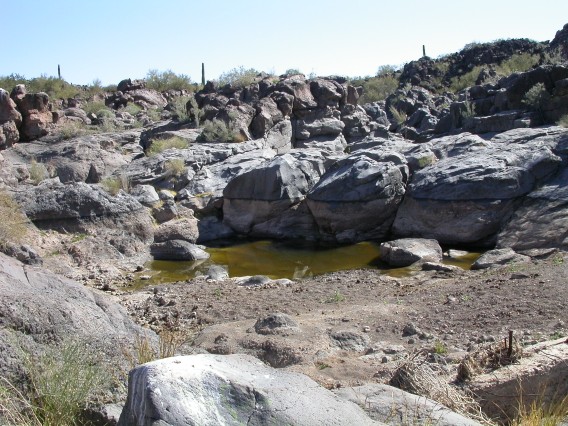 Tinajas de los Papagos. (photo by John H.)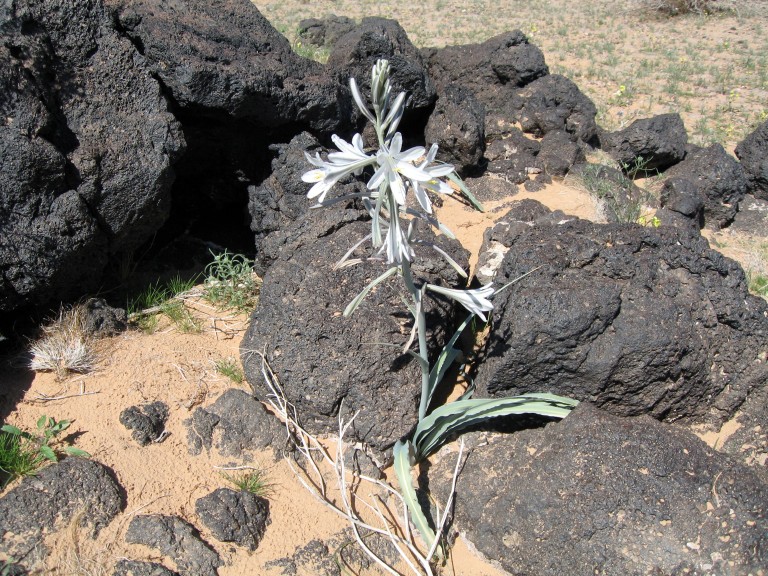 Ajo Lily on the road to Pozo Nuevo. (photo by Ron P.)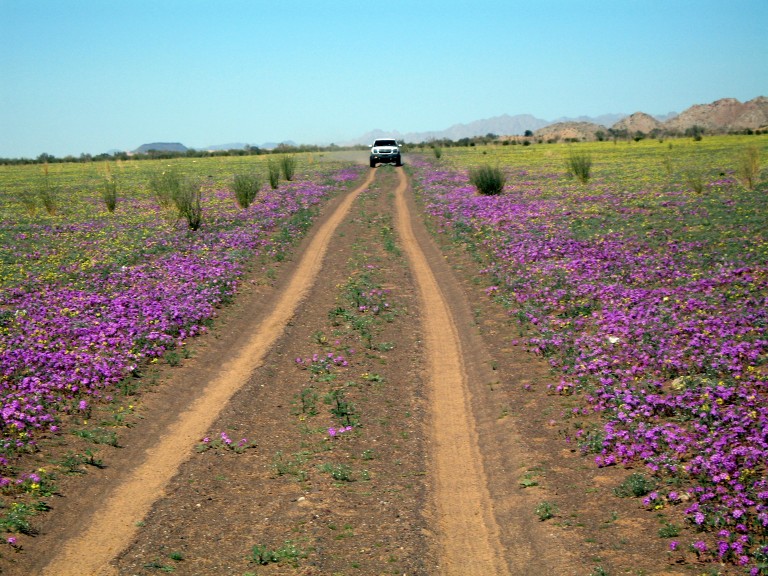 John's Avalanche and yellow and purple flowers along the road to Pozo Nuevo. (photo by Ron P.)
Here's the trip report from our February 15-17, 2008 wheelin' and campin' trip to the Pinacate. Participants were John in his Avalanche, Rick in his Toyota, Ron and Gail in their Toyota, and Midway Mike in his Cherokee. Bob made it as far as breakfast at Prieta Linda, but he had to leave to deal with heavy snow on Mt. Lemmon.
It was raining hard when we left Tucson, and it rained on us on and off until we crossed the border at Sonoyta. We did more or less the same trip we did in 2004. We left Hwy 2 at km and visited the popular East side of the Pinacate reserve -- we met two other vehicles there. We saw Crater Cerro Colorado, Crater Elegante and the lava flows along the road. Roads in the reserve were dry as most of the rain had passed north of the border. We went back out to Hwy 2 until km 72 where we turned on to the West side of the Pinacate reserve. We note that we saw it snowing high up on the volcano which must be a fairly rare sight for this area. We camped the first night near Crater Macdougal in case Bob was going to catch up with us. It was partly cloudy and windy in the evening, but cleared later to reveal a nice Milky Way before dawn.
The next two days were crystal clear, sunny and warm. We didn't see another person for the remainder of the trip. On Saturday morning, we visited Crater Trebol/Molina, and Crater Grande/Sykes. The highlight of the trip was seeing 5 bighorn sheep in the bottom of Sykes. They appeared impressively tiny. We stopped briefly for lunch at Tinajas de los Papagos which had only a little water in the pools. Then we crossed over to Pozo Nuevo for the loop around the southern end of the Pinacate range. There were lots of wildflowers near Pozo Nuevo including a lot of Ajo lilies. However, there was nothing like the spectacular displays of 2003 and 2004 when there were fields of waist-deep orange flowers. Those same fields were covered with yellow flowers this year, but only 3-inches tall. We still have seen no trace of the legendary road across the dunes - perhaps the legend is all that remains not covered with sand. We saw Crater Luna in the afternoon. We camped on Saturday night near the lava flows on the south side of the range, and then headed on out to Hwy 8 on Sunday morning. The sky was perfectly clear, although star-gazing was hampered by the waxing gibbous moon. We crossed the border at noon on Sunday with a wait less than 5 minutes.
Vehicle damage included a flat tire (John) and a drained battery (Ron). The trip would be rated 2.5 as 4WD was only occasionally needed. The lockers and winches went unused. We did about 130 miles off-highway on the reserve roads. Signage on the East side is new and excellent. Signage on the West side is completely non-existent (although they have put up new posts), so a bit of feeling your way with GPS and old maps is needed.
John, Ron and Gail did the Ajo Mountain loop in Organ Pipe on the way home on Sunday afternoon and saw a nice display of poppies.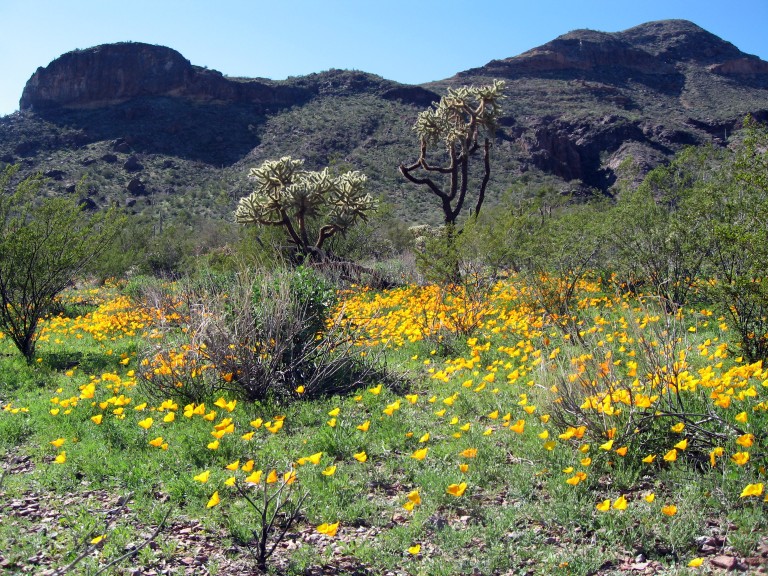 Poppies along the Ajo Mountain loop drive. (photo by Ron P.)
---
This web page maintained by John M. Hill: jhill@as.arizona.edu
All contents copyright © 2004, 2005, 2008 John M. Hill. All rights reserved.
John's 4x4 page

Last modified: Tue Apr 1 22:26:26 2008