Woodpecker Canyon, Woodpecker Mine, Ajax Mine (near Florence, AZ)
Big (and small) Trucks do Upper Woodpecker Canyon
Part 1: 08 February 2003
Here is the trip report from our "Big (and small) Trucks" trip to Woodpecker Mine on Saturday February 8, 2003. Despite the slightly gloomy start to the day with rain (or even snow depending on where you started), it turned out to be a nice day.

Breakfast at Claire's Cafe was quite unusual since Ed and I were sitting there chatting about wheelin', telescopes, and eventually the space shuttle when Laurel Clark's mother (Marge Brown) came up and introduced herself. The conversation went OK, but we were pretty stunned by the improbability of it all. (Actually, it isn't so improbable since she lives in Oro Valley.)

We wound up with 13 people and 2 dogs in 8 trucks ranging from F-250 to Samurai. 6 of the 8 trucks were guests (non-TRR members). Everybody had at least one locker so we were more than ready for the trail.

We started on Upper Woodpecker with Jeff from Mammoth navigating the Firehole with his Toyota pickup. Things were uneventful until another group caught up with us, and provided considerable entertainment and sheetmetal carnage at the Firehole. It is impressive how narrow a Bronco can be squeezed.

One waterfall above the Firehole, Matt and Melinda snapped a rear axle shaft (Dana 35) in their newly lifted Jeep TJ. We spent a while moving it off the trail and stabilizing it, and then a while more getting the broken axle out. Not having a spare axle in hand (no other Dana 35s in the group), we decided to come back on Sunday with a replacement axle.

We finished the trail and got back to the highway about sunset. The only damage beyond the broken axles was the usual amount of undercarriage bangs and scrapes. Total off-highway miles:24 (each day)

Thanks to Mike D. who kindly provided a spare axle from his shop in Tucson.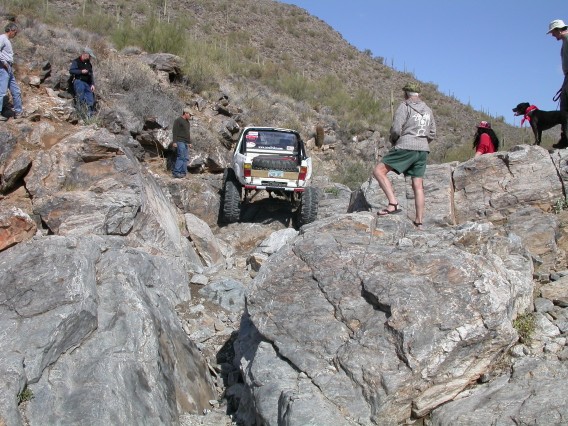 ...without a scratch (without a new scratch).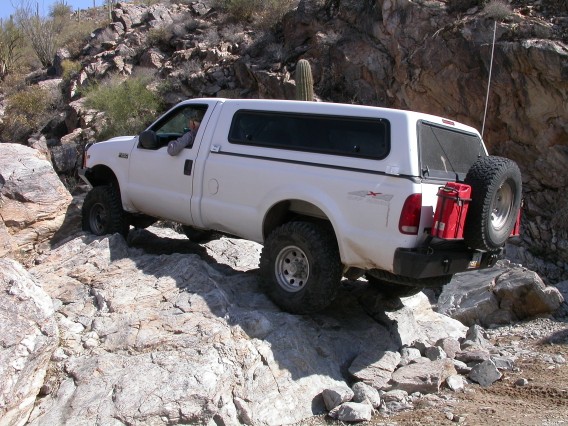 Ed on the bypass of the Fire Hole.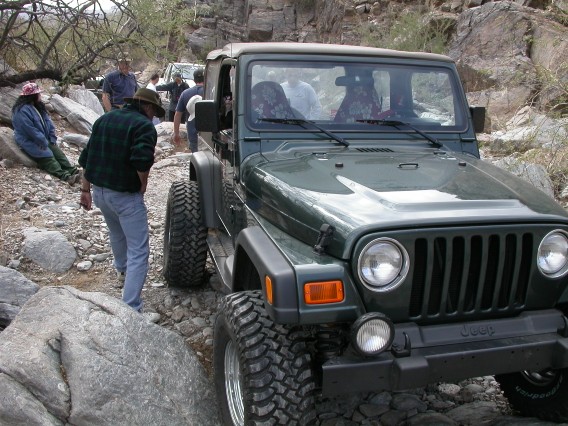 Matt and Melinda have a broken axle - note rear wheel coming off.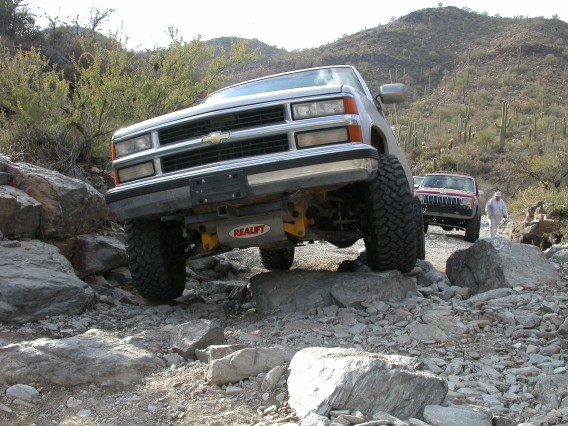 Jeremiah's Realift torsion bar offsets on John's truck really make cruising this trail in a 3/4-ton Chevy a breeze.
Part 2: 09 February 2003
Sunday February 9 proved to be a nice sunny day. Three trucks (plus Matt and Melinda as passengers) went on the Jeep retrieval trip to Upper Woodpecker again. This time we ran Upper Woodpecker in the downstream direction, so it wasn't just a repeat of Saturday's trip. We got to the stranded Jeep about 12:30. Now armed with jackstands and all the necessary rags and cleaners, installing the new axle was a breeze. We were back out on the highway at about 4PM. A good time was had by all. Watch for Matt and Melinda back on the trail with an upgraded Dana 44 in the near future.

Note to the membership: This was a real quality group of guests both in terms of personality and in their ability to repair Jeeps. So I think we can look forward to having some or all of them as new members in the near future. Special commendation to guest Darrel W. for making the trip on both days and fixing a lady's van in the Chevron parking lot.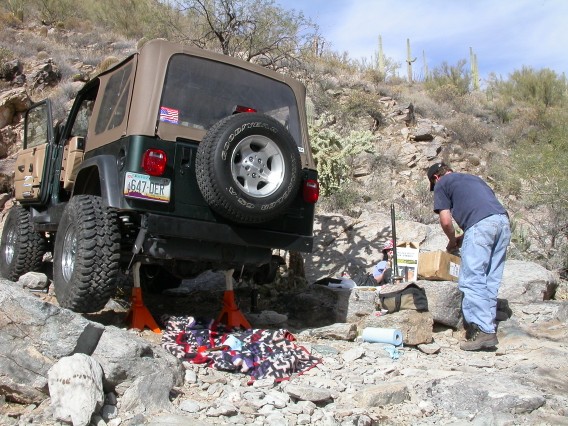 Installing the replacement axle.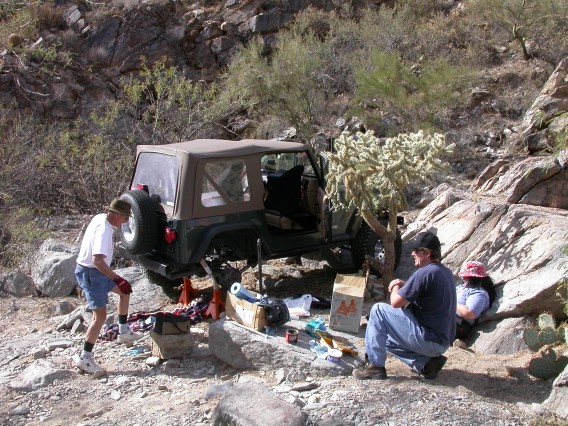 We advise breaking your Jeep farther away from a cholla cactus.
Big Trucks in Lower and Upper Woodpecker Canyon
Written by J. M. Hill Mon Feb 11 12:36:28 2002

Here's the trip report for our run to Woodpecker Canyon on Saturday February 9, 2002. It really was a "big truck" trip. Participants included a 3/4-ton Ford pickup, a 3/4-ton Chevy pickup a 1/2-ton Suburban (stock), two fullsize Blazers and a Suzuki Samurai (who thinks its a big truck!).

Most of us had breakfast at Claire's Cafe in Catalina. After an hour's drive north through Florence and topping up on gas, we got to the Cottonwood Canyon turnoff on Hwy 79 about 10:20. The National Guard had the red flag flying for artillery practice, so we drove cautiously across the military reservation.

The first obstacle of the day was the 4-rated bypass on the Lower Woodpecker trail. This got everybody's rock crawling juices flowing. (The stock Suburban didn't try this as the approach really needs a locker.)

Then we started up the Upper Woodpecker trail. We stopped for lunch after two obstacles and made a leisurely afternoon of it. With temperatures in the low 60s, it was a beautiful day for wheelin. We occasionally had to pull over to the side to let pass some built Jeeps who were on the express route to the "Highway to Hell" trail. We made it through Upper Woodpecker with only the expected undercarriage and rocker panel and bumper scrapes. There were two flat tires, but no other interesting damage. Matt slammed the front pumpkin on his suburban into a nice boulder, but the boulder shattered leaving the pumpkin intact. So he's now known as "Rock Crusher".
Upper Woodpecker and beyond
The ususal suspects (John,Bob,Robbie,John,Skip) spent a lovely day on Saturday wheelin' on the upper Woodpecker canyon trail north of Florence.

We cruised through upper Woodpecker without any problems other than the expected banging of undercarriages on rocks. The big Chevys took the bypasses around the toughest obstacles while the Samurai went over or between them. rating=4 with bypasses, 4.5 without bypasses. This trail always provides quite the rush climbing boulders right at the limit of your truck's capability. Nothing got broken although we did add a few incidental scratches to rocker panels, and some major new gouges in skidplates.

After lunch, we went around the south part of the Orphan Boy mine loop. rating=3. Then, we went out to the north. The drive up past Picketpost Mountain into Superior is quite scenic. We finished the day with burrito/enchilada platters at Casa Rivera in Hayden.

09 October 1999 (photos by S. Bohling)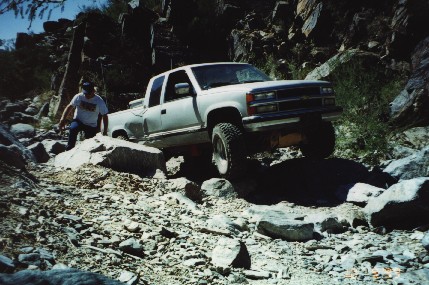 woodp10.jpg 1459kB "The River... navigating carefully over the rocks"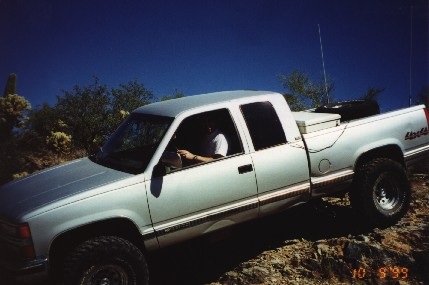 woodp11.jpg 1156kB "The River... goes easy down the bypass."

---
Tucson Rough Riders in Woodpecker Canyon
Written by John Hill Sun, 24 Nov 1996, 13:14:42

On Saturday November 23, John Waack, Bob and Robby Peterson, and John Hill joined the Tucson Rough Riders for a trip up the Woodpecker Mine trail. Woodpecker Canyon is a boulder-filled mostly-dry wash about 15 miles NE of Florence. There were 18-20 trucks altogether. When they invented the expression "between a rock and a hard place" they were clearly thinking about Woodpecker Canyon.

We ran the trail West to East running upstream through the wash. The trail starts with a series of boulder fields and waterfalls. All the trucks with open differentials have fun/trouble with this early section. John W. in his Suzuki cruises right through or over or around the boulders, and annoys the Jeep crowd by driving with one hand and munching Oreos with the other. (Bob in the Suburban and John in the full-sized pickup cheated a bit by getting up early and running 80% of the trail downstream, watching everybody else go through the boulders and then joining the group for the trip back upstream. Bob had driven the Suburban upstream through the boulders before, but too much body damage occurs on the big trucks.) There are special challenges along the way for the rock-crawling enthusiasts if the normal trail isn't challenge enough. There wasn't big damage to any vehicle, but at least half the trucks got some minor damage (rocker panels, bumpers, tail lights, diff covers, exhaust pipes, etc.) --- the price of wheelin'.

After Woodpecker, the group cruised down through scenic Box Canyon on the way back to Florence.

Not all the Rough Riders have figured out that 4-wheelin' is just another excuse to eat Mexican food, but a few of the crowd had dinner at L&B Mexican restaurant in Florence.
---
The Woodpecker Canyon Trail
Written by John Hill Sun, 10 Mar 1996 13:39:57

Here's the trip report for our wheelin' adventures on Saturday March 9, 1996. John Waack in "Over Easy" (Suzuki Samurai), Bob Peterson in "Willy" (Suburban with a new rear axle) and John Hill in "The River .... runs through it" (3/4 ton pickup) drove up to Florence and then headed east along the Gila River to Box Canyon. The weather has been very dry so there wasn't any water in Box Canyon. We went cruisin' right on through since Box Canyon is more fun as a challenge for stock trucks.

Our original plan was vaguely to explore the area around Woodpecker mine north of Box Canyon as there are (active?) mining trails all over that area. We figured that the difficult Woodpecker Mine trail would be to tough for the long-wheelbase vehicles, but as we had never been there we would scout the area. Our enthusiam was increased by the article in the latest (April 96; just arrived on Friday) issue of 4Wheel and Off-Road entitled "Arizona's Woodpecker Whammy Trail". This article by Rick Pewe shows a variety of trucks wedged against rocks in interesting ways. So we figured.....why not?

The Woodpecker Canyon trail runs about two miles down a boulder-strewn wash from Woodpecker Mine to Cottonwood Canyon. The trail is rated a 5, maybe only 4.5 if you take the bypasses around several of the difficult spots. Access to either end of the trail is by graded dirt road. We started down the wash without any problems as the first quarter mile is pretty easy. Then the first narrow spots have bypass routes around them --- so our confidence builds. We passed another group from Mesa coming upstream and they tell us that the best is yet to come. This group included a lifted and locked 80-something Chevy pickup so we figured there was a chance that we would squeeze through. The trail lived up to all expectations. About halfway through, we came to the half-mile stretch covered with boulders and without any bypass route. Of course, now, turning around is difficult as well. If squeezing your truck over and around big rocks makes you heart flutter, this is the trail for you. We made it through in 3.5 hours with only minimal vehicle damage. Bob put a new crease in his fender and I put a dent in my roof --- scrapes on the skidplates don't count. Of course, all the time was spent directing the big Chevy iron around the obstacles; the Suzuki cruised right through. Well maybe the trail failed to live up to one expectation --- nobody expected two full-size Chevys to make it through intact!

Oops, the rocks were such fun, I almost forgot the food. The day started with omlettes at Claire's Cafe in Catalina and ended at L&B Mexican restaurant in Florence. They are both worthy of frequent return visits.

09 March 1996 (photos by J. Hill)

woodp01.gif 609kB "Willy navigating carefully over the rocks"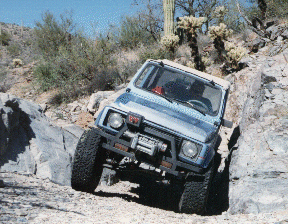 woodp02.gif 835kB "Easy between the rocks"

woodp03.gif 840kB "River through the rocks"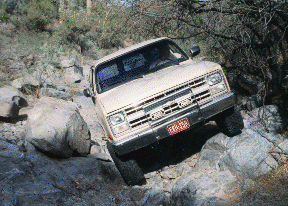 woodp04.gif 760kB "Pucker up Willy"

---
Trail Ratings
Upper Woodpecker has been rated 4.5, so this is not a trip for beginners to drive (it has become easier over time because of people stacking rocks). However, it is short, so you can come and walk along while others destroy their trucks. (You can drive your 2WD truck or SUV right to the trailhead.) In fact, some of the obstacles on Upper Woodpecker are too tight for fullsize trucks to squeeze through, so we will have to use the bypasses and derate the trail rating to 3.5-4, All the risk is in boulder damage to the bottom (or sides) of your truck.)

Lower Woodpecker is only a quarter-mile long with one really fun obstacle. The rock crawling obstacle can be rated from 4 to 5 depending on the route you take (the bypass is 4.0). There is a signficant rollover risk, so don't try this one alone.

Upper Ajax is a challenging trail for the serious rock crawling enthusiast. This trail should not be attempted in stock vehicles. Minimum vehicle requirements to attempt the trail include: short wheelbase, TWO locking differentials, suspension lift, 31-inch tires or larger. Even well equipped vehicles stand a good chance of sustaining damage. There are three serious obstacles designed to remove your right rear fender. Every vehicle should have a Hi-Lift jack and either a winch or a tow strap. The rating is 4.5 .

Lower Ajax is rated at 3.5. Big trucks can make it since there are no narrow obstacles. It makes a good warm-up for Upper Ajax.
Trail Location for Woodpecker Canyon and Ajax Mine Trails
Warning: These directions are still under construction.

Travel time from Tucson is approximately 1 hour. From Florence proceed North on AZ Hwy 79. After 11 miles (near milepost 144 at a flagpole), turn East on Cottonwood Canyon Road. (Note: Cottonwood Canyon Road crosses a military reservation and may not be accessible during days when live fire exercises are in progress. Also note that a permit to access State Trust Land is needed for this area.)

Proceed East on Cottonwood Canyon Road, turn right (after 5 ?? miles) when you intersect Mineral Mountain Road. Upper Woodpecker Canyon trail is on the left side in 0.3 miles.
Topographic maps needed
Mineral Mountain
Area Maps
Area Map showing dirt roads around Woodpecker Mine.

GPS Coordinates
| | | | |
| --- | --- | --- | --- |
| Landmark | UTM Easting | UTM Northing | Altitude |
| Highway turnoff to Cottonwood Canyon | 12 4 67 180 E | 36 71 000 N | +1765 |
| West entrance to Woodpecker Canyon trail (Upper Woodpecker) | 12 4 79 400 E | 36 73 600 N | +2400 |
| East entrance to Woodpecker Canyon trail (Upper Woodpecker) | 12 4 81 026 E | 36 75 079 N | +2800 |
| Woodpecker Mine | 12 4 81 776 E | 36 75 047 N | +3000 |
| West entrance to Upper Ajax mine trail | 12 4 81 800 E | 36 74 050 N | +2780 |
| Ajax Mine | 12 4 83 020 E | 36 74 200 N | +2980 |
| West entrance to Lower Woodpecker trail | 12 4 77 476 E | 36 73 670 N | + |
| East entrance to Lower Woodpecker trail | 12 4 78 227 E | 36 73 761 N | + |
| North entrance to Box Canyon | 12 4 81 000 E | 36 67 750 N | +2150 |
| South entrance to Box Canyon | 12 4 78 200 E | 36 61 800 N | +1580 |
| Highway turnoff to Box Canyon | 12 4 64 800 E | 36 58 000 N | +1500 |
---
This web page maintained by John M. Hill: jhill@as.arizona.edu
All contents copyright © 1996, 1997, 1998, 1999, 2000, 2001, 2002, 2003 John M. Hill. All rights reserved.
John's 4x4 page

Last modified: Sat Feb 15 17:12:58 2003