Trip Report for our Death Valley Trip 28 March - 1 April 2007.
Here's the report from our March 28-April 1 trip to Death Valley. Participants were Bob and Robby P. in their Blazer, Mike D. and Rick M. in Mike's Cherokee, Ron P. in his Toyota P/U, John H. and Jon R. in John's Avalanche.
Wednesday 28 March 2007
The Black Cloud award goes to Bob and Robby. They had a U-joint in the rear driveshaft fail in Stanfield. After hammering it back together they went back to Casa Grande to get it fixed. They started out again with new U-joints and got as far as Wickenburg before the Blazer stopped dead in the middle of the highway. This turned out to be a melted wiring harness. Since this repair was going to take a while, Amy drove up in the Tahoe to rescue them. On Saturday morning they had a flat tire on the Tahoe near Payson. Thanks to Bob for taking care of all the breakages -- none of the rest of us had any failures on the trail. I drove the whole way with a bad rear brake rotor and a missing rear shock -- undiscovered damage from Eagle Creek in January.

Jon and John stopped at Zabriskie Point just in time to miss sunset on Wednesday. Everybody went in to Furnace Creek for dinner.
Photos by Ron P. (coming from Yuma)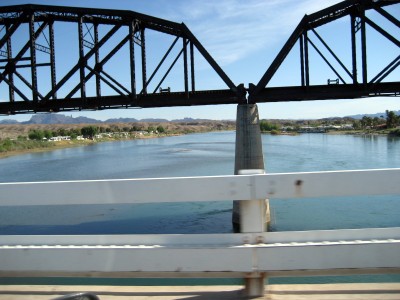 Colorado River at Parker, AZ.
Photos by Mike D.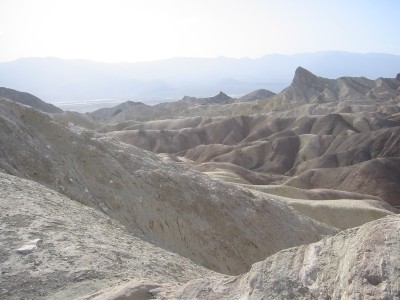 Zabriskie Point.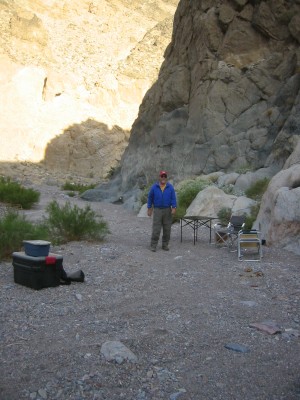 Mike and Rick's camp in Echo Canyon.
Photos by John H.
Zabriskie Point just after sunset.
More photos from 28 March 2007
Thursday 29 March 2007
Thursday morning we headed south from Furnace Creek. We drove around Artist's Loop, and then stopped to check out Badwater (lowest spot in North America). We left pavement and headed up Warm Spring Canyon where we checked out the remains of various old and newer talc mines. We had lunch in Butte Valley. Then we crossed Mengel Pass and headed down Goler Wash. The road in Butte Valley was rocky and rough, but easy going in the 4WD sense. The Mengel Pass road was sandy and smooth with occasional rock obstacles. Depsite the concern of the ranger that we were going the hard direction, we passed all the obstacles without use of spotters, lockers or winches. We missed the turn for Barker Ranch, but the drive down Goler Wash was spectacular in the late afternoon light. This left us in Panamint Valley. We went north on the graded road to the semi-ghost town of Ballarat. The two old guys sitting on the porch of the store/museum/house were "interesting".

We drove a couple miles up Pleasant Canyon and camped for the night beside a flowing stream in this narrow canyon. We were most surprised by the amount of flowing water we found in the Death Valley area. During the night a wild burro came along to let us know that we had taken his spot. Temperature was cool up in the mountains, but we were shielded from the wind in the canyon.
Photos by Mike D.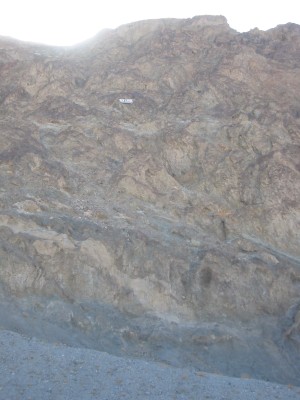 Looking up at sea level.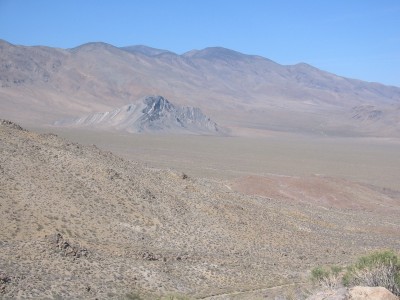 Striped Butte as seen from Mengel Pass.
Photos by John H.
More than 20 mule power here! (John's Avalanche and the borax wagons at Furnace Creek).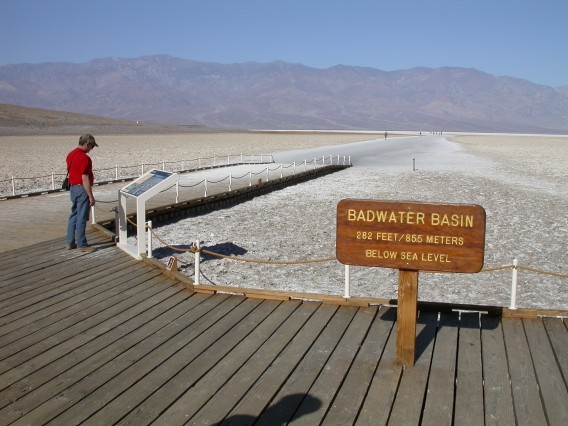 Badwater Basin at 282 feet below sea level.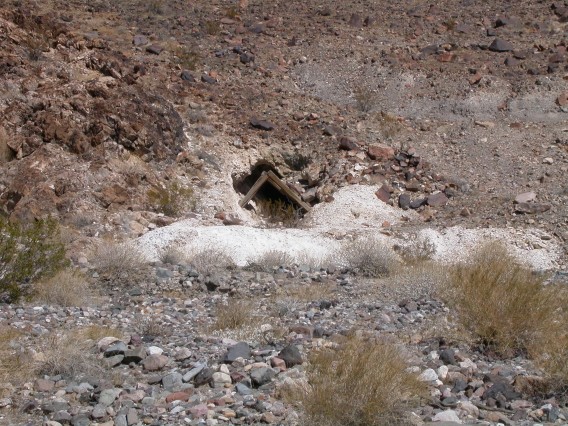 Talc mine along Warm Spring Road.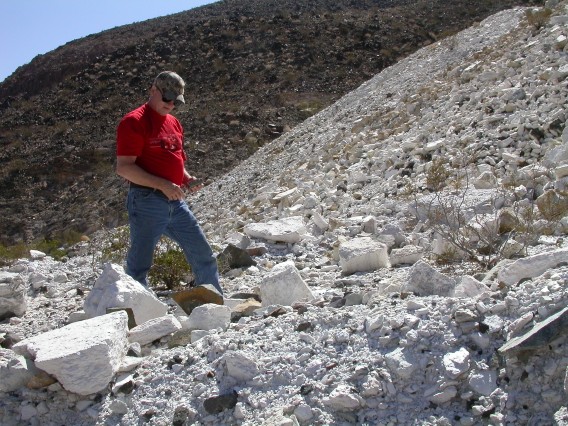 Checking out the talc mine tailings.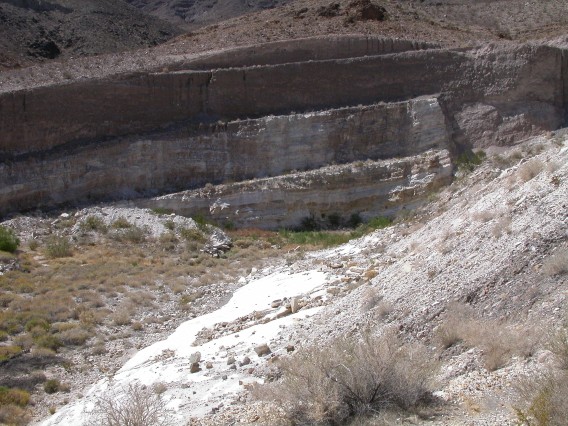 Open pit talc mine near Warm Spring.

Arrastra at Warm Spring for working the ore from Gold Hill Mine.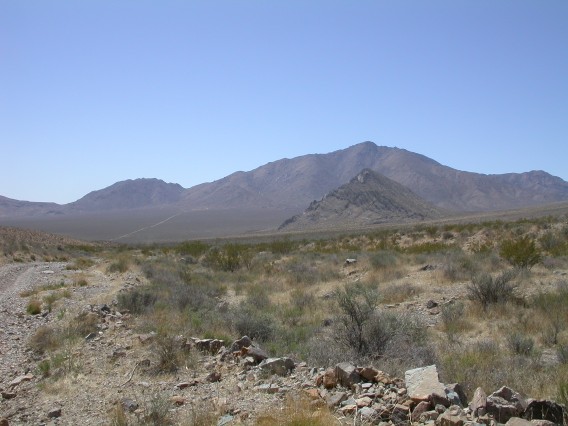 Striped Butte as seen from Butte Valley.

Obstacles on the trail climbing up Mengel Pass.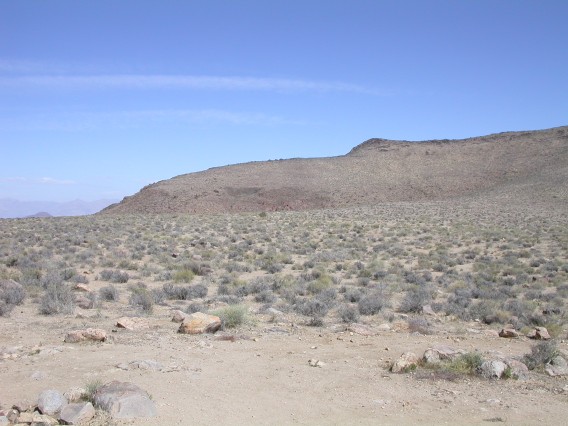 Panorama from the top of Mengel Pass.
Photos by Ron P.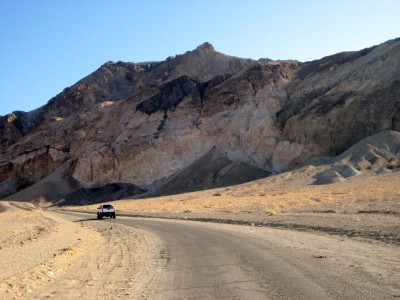 Along Artist's Loop.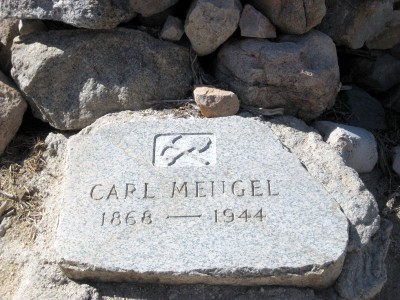 Carl Mengel's grave atop Mengel Pass.
Photos by Jon R.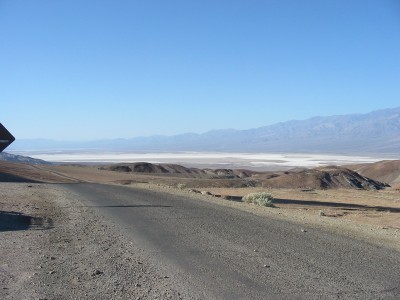 View of central Death Valley from along Artist's Loop.
More photos from 29 March 2007
Friday 30 March 2007
Friday morning we drove back down Pleasant Canyon (didn't go around the loop) and drove on the pavement to Panamint Springs for supplies. Gas was $4 per gallon and propane was $6 per quart. (Jon R. says he would charge more than that if he had to live there.) Then we headed north and took the road to South Pass and then down into Saline Valley. As we went down into Saline Valley we were buzzed by a couple of F-18's from China Lake (just south of Panamint Valley). Next we headed up Lippencott Road to cross into Racetrack Valley. Lippencott is rough and eroded, so 4WD was seriously needed. It also has a number of washouts that narrow the road enough to make it very exciting from the passenger seat of a fullsize truck. After lunch at the top of Lippencott, we headed north on Racetrack Road to see the famous "moving stones" on the playa. (Jon says you have to watch out of the corner of your eye to see them move.) At the far end of Racetrack, we stopped at Ubehebe Crater. We camped that evening at the developed campground at Mesquite Spring (much nicer than the campground at Furnace Creek). It was cooler and windier than the previous night.
Photos by Mike D.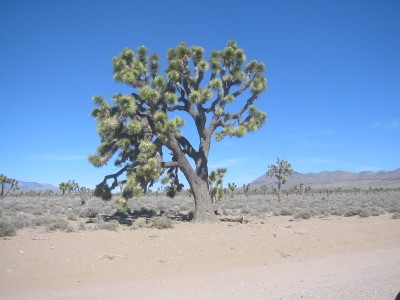 Joshua tree near Lee's Flat.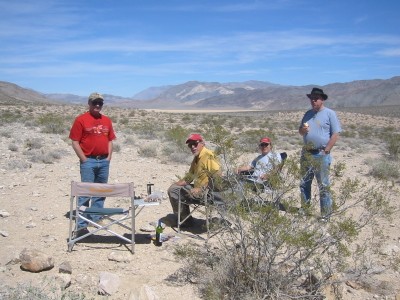 Lunch in the "forest" at the top of Racetrack Valley.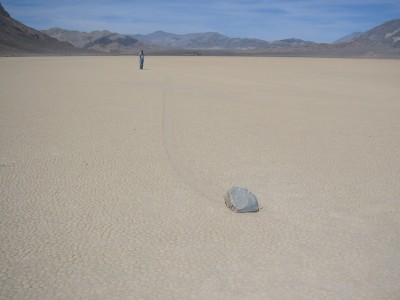 Moving stones on Racetrack Playa.
Photos by John H.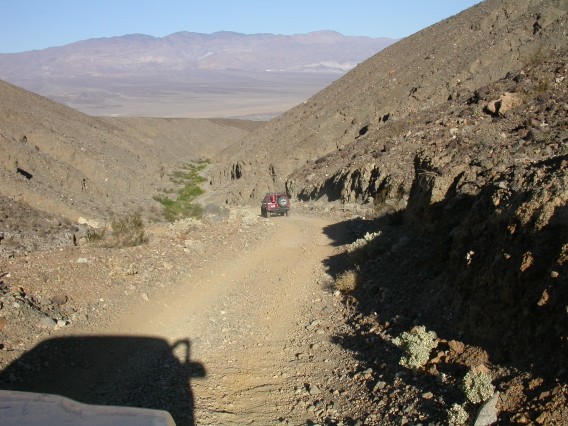 Going back down Pleasant Canyon.

Panorama of Panamint Valley from Padre Crowley Point.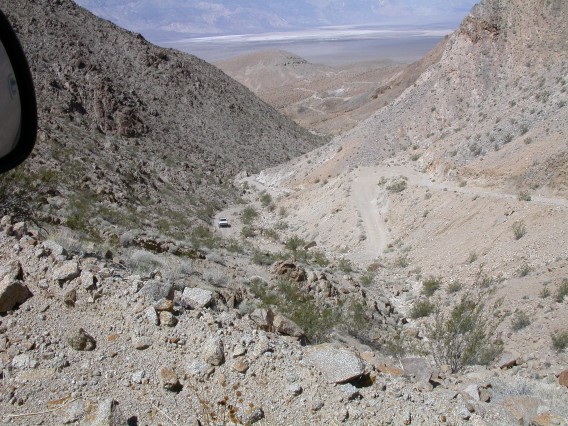 Lippencott Road looking back down into Saline Valley.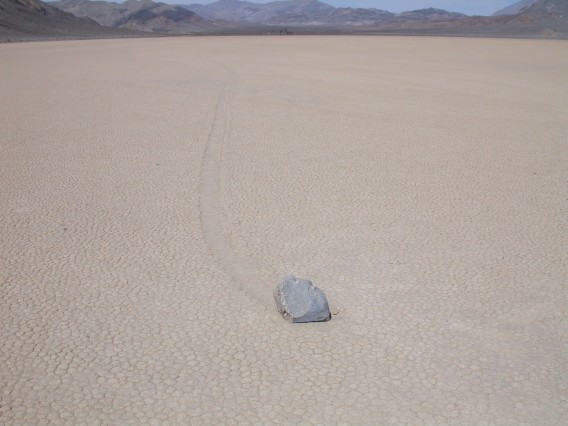 Moving stones on Racetrack Playa.
Photos by Ron P.
going down Pleasant Canyon.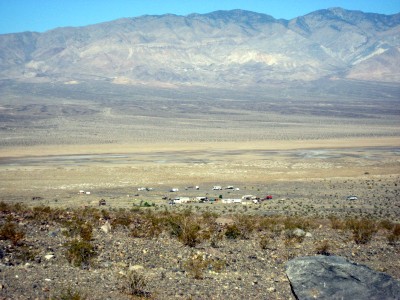 suburban Ballarat in Panamint Valley.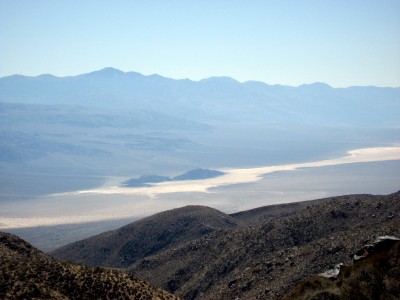 Looking down into Panamint Valley (near South Pass).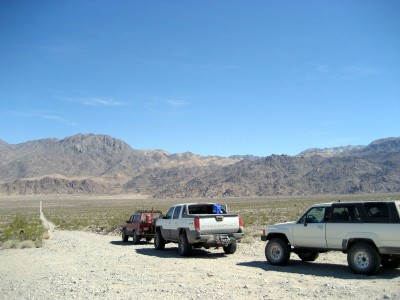 In Saline Valley on the way to Lippencott Road.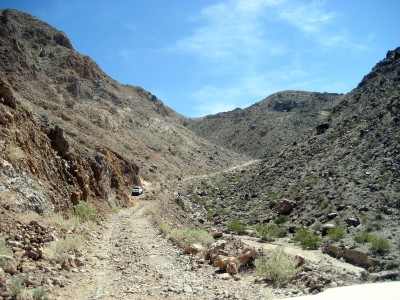 going up Lippencott Road -- some real 4-wheelin'.
Photos by Jon R.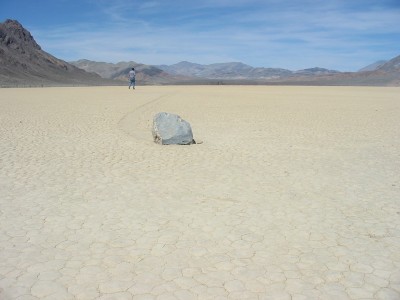 You might see them move if you watch out of the corner of your eye.
More photos from 30 March 2007
Saturday 31 March 2007
Saturday morning we got separated leaving Mesquite Spring. It seemed obvious to me that we were going via Scotty's Castle, but the other guys had already turned the other way. We all did the Titus Canyon trail, but not at the same time. Titus is graded for stock SUVs so the wheelin was easy and there was lots of traffic. While John and Jon looped back through Beatty to reconnect, the other guys drove up Cottonwood Canyon. We met up again near Stovepipe Wells. After a stop at the Borax Works, we camped a couple miles up Echo Canyon. Temperature in the valley was up around 90 degF in the late afternoon (still a cool spring day by DV standards).
Photos by Mike D.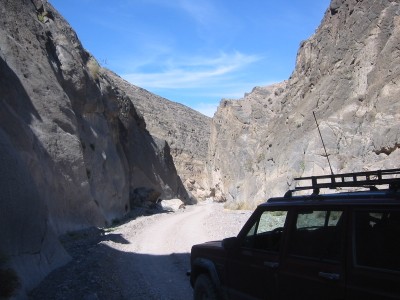 Titus Canyon.
Photos by John H.
Leadfield.
Photos by Ron P.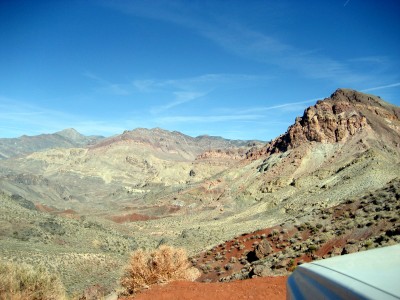 On the way into Titus Canyon.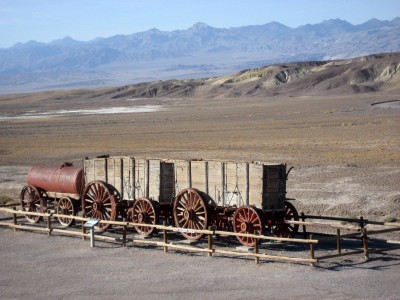 Wagons for your 20-mule team at Harmony Borax Works.
Photos by Jon R.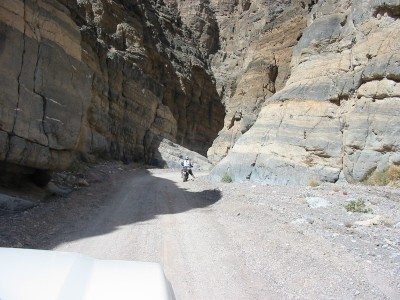 Titus Canyon.
More photos from 31 March 2007
We drove back to Tucson on Sunday. We went south through Baker and across the Mojave National Preserve. A train blocking the crossing in Kelso. sent us on a wheelin detour through the Providence Mountains. Got back to Tucson around 6PM.
Photos by John H.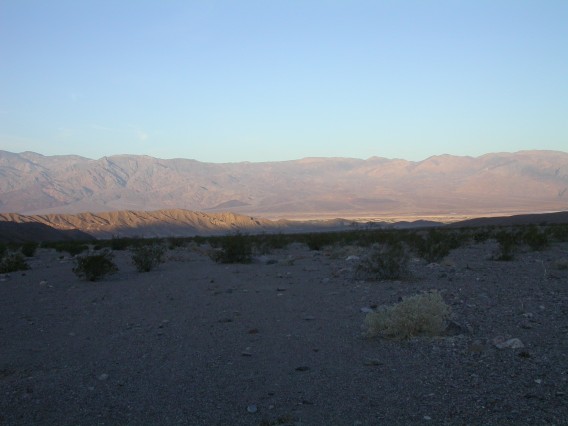 Camp in Echo Canyon.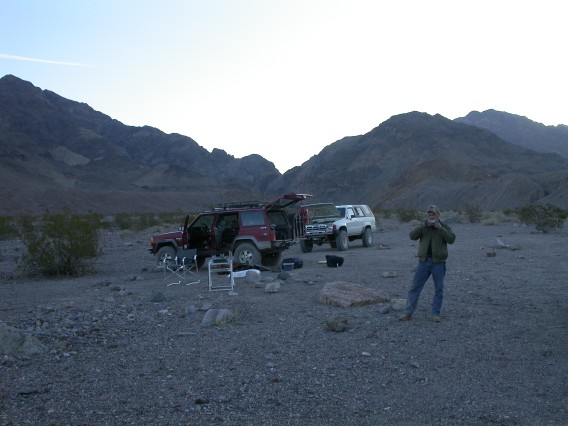 Looking down from Echo Canyon.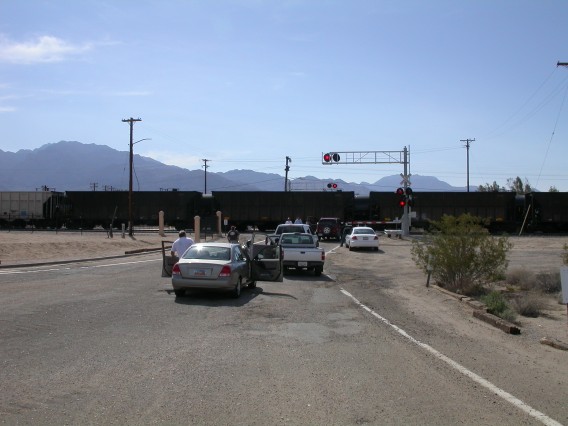 Blocked by the train in Kelso.
Photos by Ron P.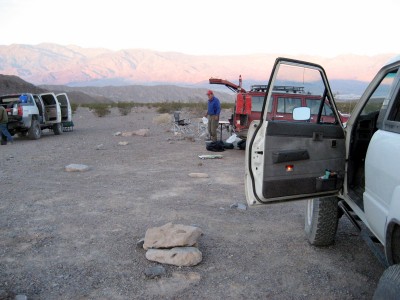 Camp in Echo Canyon.
Photos by Jon R.
John H. in Echo Canyon.
More photos from 01 April 2007
---
John Hill <jhill@as.arizona.edu> Last modified: Mon Aug 27 18:08:03 2007